Nation must look past Olympic glory to building its own strong sporting brands, say industry experts. Tang Yue and Craig McIntosh report from Beijing.
As the Vancouver Olympics draw to a close, China is again celebrating unprecedented sporting success on the world stage. Before this year, the country had won only four gold medals in the history of the Winter Games- within a matter of weeks it has more than doubled that tally.
By taking top prizes in figure skating and short-track speed skating events, as well as six silver and bronze medals, the nation's athletes ensured their Canadian adventure maintained the momentum that promises to take Chinese sport to dizzying new heights.
Coupled with the success of tennis aces Zheng Jie and Li Na, who both reached the semifinals of the Australian Open in January, and the national team's victory in the East Asian Soccer Championship in Japan last month, sports and business analysts predict 2010 could prove a major turning point for the Chinese sports industry.
However, experts warned that only through investment in domestic professional leagues and, above all, by creating strong sporting brands will China ever really profit from such success on the world stage.
For all the passion of the fans and emotion on the field, make no mistake: Sport is big business.
In the United Kingdom and United States, the nations that boast the world's two biggest sporting brands - Manchester United in the English Premier League and New York Yankees in Major League Baseball (MLB) - sport contributes about 2 percent of GDP.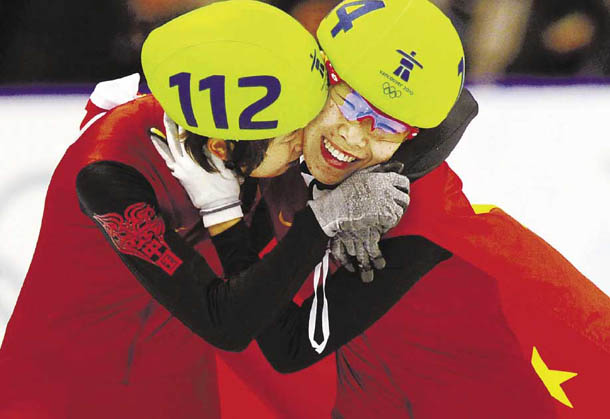 Gold medalist Wang Meng (left) celebrates with compatriot Zhou Yang during the 2010 Winter Olympics. Wang won gold in the women's 1000m short-track final at Pacific Coliseum in Vancouver.[Photo/AFP] 
However, in China the sector contributed less than 0.7 percent of GDP in 2009, representing about $20 billion, said Yi Jiandong, a sports industry expert and professor with the Beijing Sport University, who cited estimates based on economic analysis.
For a nation with a 1.3 billion population and arguably the largest market in the world, improving the standard of teams and leagues, and boosting confidence in "China-made sport", is the only way to make it a valuable commodity the nation can export.
"Exports of sports-related products fall mainly into two parts: sporting goods and sporting services, the latter including performing in continental and international competitions, the brokerage industry and broadcasting," explained Yang Zaihui, a professor on sports economics at the Central University of Finance and Economics in Beijing.
Local sportswear brands like Li Ning and Anta are growing, with export volume hitting a peak of about 8 billion yuan ($1.17 billion) in 2008 and dropping only slightly during last year, she said. "But China is doing almost nothing in the sports service sector and we still have a long way to go. As a commodity, our basketball and soccer leagues are of low quality, so the majority of people in China turn to the NBA for basketball and the European leagues for soccer," he said.
The recent match-fixing and illegal betting scandal that has rocked the nation's soccer league - the China Football Association said this week it has "solid evidence" to expel one team the competition, while two others have been demoted to lower divisions as punishment - has not only shaken fans' belief in the domestic game but also harmed the international brand of Chinese sport, said analysts.
"The soccer scandal adds insult to injury. The government have not been giving it proper supervision and I'm afraid foreigners will take it as an example of a bad 'made-in-China' product. The professional game here as a whole has lost creditability," said Yang.
China's largest sporting brand, in reputation and height, is arguably one man: Yao Ming. The Huston Rockets all-star center, who has become one of the NBA's most popular players since his arrival in 2002, topped the Forbes Rich List of Chinese celebrities for the fifth year in a row in 2009 with earnings of almost 360 million yuan.
Although struggling with a foot injury since early last year, his stock has only risen higher in the eyes of the Chinese people since he reinvested some of his vast personal wealth into buying his former club, Shanghai Sharks, last November. But it is perhaps the less high-profile deal done between QSL Sports Limited and the Chinese Basketball Association (CBA) that is expected to have more impact on the domestic game.
The historic dollar agreement sealed last week, which will see QSL manage the National Basketball League, which is independent of the elite CBA, is the first time a private enterprise has been allowed to completely take over a professional league in China. Previously, sports associations under the State General Administration of Sport governed all leagues.
"The National Basketball League will be dedicated to finding homegrown stars through college recruitment projects, while it will also have stricter policies on the use of foreign players," said Kenneth Huang, co-founder of QSL, who in November also bought Jilin North East Tiger, a team in the CBA.
The 45-year-old businessman, who is originally from Guangdong province and has a master's degree from Columbia University in New York, has successfully brokered marketing deals with the Yankees and the Rockets, and in June last year his company won the contract to promote MLB in the Chinese youth market. He said China is shifting its focus from Olympic medals to boosting its professional leagues to attract more investors.
"I knew the self-confidence and enthusiasm for sports would definitely keep rising after the Beijing Olympics (China topped the Games medals table in 2008) and making the day of the opening ceremony National Fitness Day was a very positive signal," said Huang.
To make money from Chinese sport, however, people need to be patient. "Investing in sport is not like investing in real estate. It always takes about five to 10 years to see any returns in sport," he said. "It's OK to look forward to another Yao Ming in the NBA but our own leagues deserve more attention and effort to help them grow. "Investors also have to cooperate with government here. That's the rule you work with in China, and a lot of foreign investors are not fully aware of this and so they fail easily."
He Wenyi, director of Chinese Sports Industry Research Center, welcomed the introduction of private capital into the country's professional leagues, citing the QSL deal as a hugely positive step.