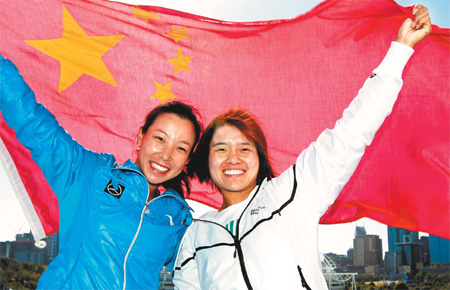 Tennis players Zheng Jie (L) and Li Na pose with the Chinese national flag during the Australian Open in Melbourne yesterday.[Agencies] 
When Li Na smashed a forehand winner to wrap up a 2-hr-47-min quarterfinal tussle at the Australian Open yesterday, a new chapter of Chinese tennis history was written.
With a 2-6, 7-6(4), 7-5 upset of seven-time Grand Slam winner Venus Williams, Li made it to the semifinals at Melbourne Park, a day after compatriot Zheng Jie's similar feat.
Related readings:


 Li Na stuns Venus to reach Australian Open semis


 Li joins Zheng in quarters at Australian Open


 Li Na equals personal best


 Zheng into Open semis


 Zheng makes historical Australian semis, to meet Henin
For the first time, China has two players in the last four of a Grand Slam, a deed previously matched only by a few nations such as the United States, Russia, Belgium and Serbia.
"Best day of my whole life," Li said right after the victory over the American favorite.
Asked how she felt about having two Chinese in the semis, Li broke into a huge smile: "Good for both players. Also good for China's tennis," Li said. "Also good for the fans."
Sun Jinfang, China's tennis chief, lauded the duo, saying their success "blows a spring breeze into the unpleasant Chinese sport atmosphere due to the scandals rocking soccer".
"In such circumstances, tennis portrays a very positive image of China sport with their success," Sun told China Daily.
Sun said the duo's achievements beat expectations and will have a huge impact on youngsters in the country.
"The influence of the tennis idols will be enormous and they will inspire a new generation."
Li and Zheng's stunning performances delighted the packed Rod Laver Arena for two straight days as local spectators were vociferous in their support for the underdogs.
Also, many Chinese appeared in the stands, using every ounce of energy to support them. Some even broke into tears after witnessing Li's landmark victory.
"I had tears in my eyes when she finally won the game," Wu Ying, a 21-year-old Chinese student at Melbourne University, told China Daily after watching the game with two of his Chinese classmates while holding the national flag.
"An Australian sitting next to us even asked me how to cheer in Chinese, because he wanted Li to win. Every time Li won a point, we could hear him scream "Hao Qiu (Nice shot)!" Wu said. "The spectators were on her side."
It is a relatively late achievement for the 27-year-old Li, who was regarded as a tennis prodigy during her childhood.
Li, who switched to tennis at the age of eight after playing badminton for a few years, soon displayed amazing talent for the sport and emerged as China's best tennis player. Between 1999 and 2004, she won 20 women's singles titles: 19 ITF events and one - the first by a Chinese woman - on the WTA Tour.
But Li, whose father died when she was 14, did not like tennis, saying she was pushed to play the sport by her parents and coaches. She withdrew from the sport in 2002 - in her prime - and went to college. After a soul-searching two-year break, she decided to make a comeback.
She then rose to the elite level of world tennis by becoming the first Chinese player to reach the top 30 (in 2006), then the top 20 (in 2007); then world No 15 (in 2009).

By reaching the semifinals in Melbourne, Li will become the first Chinese player to enter the top 10 when the WTA rankings are released next week.
It was a different story for Zheng, a 26-year-old from Sichuan province.
Unlike Li, she was never regarded as a "real" tennis talent until she made the national team in 2001.
After winning a provincial junior tournament title at the age of nine, Zheng was annoyed to find she did not grow as tall as most of her teammates.
In a sport where height plays a huge role in success, the petite Zheng was underestimated by most of the local coaches. That's why Zheng, 1.64m, idolizes Chinese-American tennis great Michael Chang, a 1.73-m "small" player who was once ranked world No 2, and Deng Yaping, the 1.5-m-tall Chinese table tennis legend who won dozens of world and Olympic titles.
In the first semifinal today, Li will take on defending champion Serena Williams while Zheng will face Justin Henin in the other.
Now, China is dreaming of an all-Chinese final.
"If they can play quality tennis like in the previous games, I believe anything can happen," said Sun, the tennis chief.