RIO DE JANEIRO: In a star-studded International Challenge of the Stars kart race in Florianopolis, Santa Catarina, Michael Schumacher won his second title of the event on Sunday.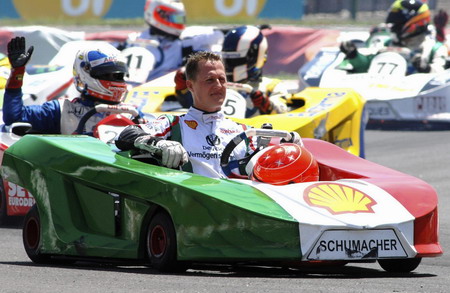 Seven-time Formula One World Champion Michael Schumacher of Germany waits before the start of Kart Stars Challenge in the city of Florianopolis, Brazil November 29, 2009.[Agencies] 
Although Brazilian native Felipe Massa placed first in the last heat of the competition, it was not enough to win the title.
Schumacher, the five-time Formula One champion, set the standard for the rest to follow on Saturday, recording the fastest 28 laps with a time of 26:28.571. Massa trailed his former teammate of Ferrari by 4.684 seconds and in third place.
Related readings:


 Schumacher to touchdown before race


 Schumacher set for a spin at the Bird's Nest


 Ferrari names Badoer after Schumacher withdraws


 Schumacher 'really sad' about canceling comeback
Despite Massa placing first on Sunday, Schumacher placed second and guaranteed the title. The German won his first International Challenge of the Stars in 2007.
"This is one of the best events in the world. I am pleased to have won today's race and am happy for Schumacher. While driving the kart, I was able to hear the cheers of the crowd, which was fantastic. Now, my next mission is to learn how to change a diaper. Then, I plan on preparing to work along side Alonso in preparation for next season," said Felipe Massa, who after the race traveled to Sao Paulo to be next to his wife, Raffaela, who is expected to give birth to Massa's first child.
The competition marked Felipe Massa's return to competition since his severe accident on July 25 during the time trials at the Formula One GP in Hungary.