EAST RUTHERFORD, New Jersey: The New Jersey Nets fired coach Lawrence Frank on Sunday after losing their first 16 games during one of the worst starts in NBA history.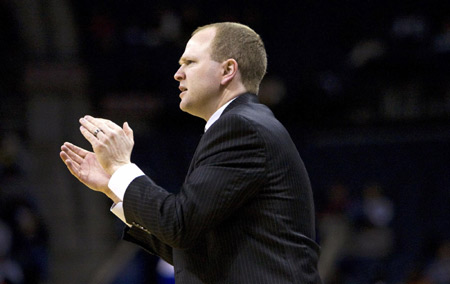 New Jersey Nets coach Lawrence Frank gives his players instructions against the Charlotte Bobcats during an NBA basketball game in Charlotte, North Carolina November 2, 2009. [Agencies] 
Assistant Tom Barrise was to coach the team Sunday night in Los Angeles against the Lakers, when the Nets could tie the record for the worst start if they lose.
The Nets said a permanent replacement for Frank hasn't been determined.
Frank was in his sixth full season, the longest-tenured coach in the Eastern Conference and the most successful coach in the Nets' NBA history. But none of those victories came this season, and the team dismissed him with a 225-241 record.
Related readings:


 Wallace, Bobcats rally past Nets 79-68


 Nets set for Russian owner, move to Brooklyn


 Garnett's jumper gives Celtics victory over Knicks

 Celtics come back to keep Nets winless
"Lawrence always approached every day with a passion for his craft that was infectious, and his dedication to the game as well as his work ethic are to be both admired and appreciated," Nets president Rod Thorn said in a statement. "I wish he and his family only the best of good fortune in the future."
Frank began his career with a 13-game winning streak, the best coaching start in league history. But he couldn't overcome a losing streak that was even longer, just a game shy of the 17-game skids set by the 1988-89 Miami Heat and the 1999 Los Angeles Clippers.
Plagued by injuries this season, the Nets faced some games where they were missing four starters and suited up the minimum eight players. Still, they played hard and stayed close for most of those games, figuring the wins would come when they started getting some bodies back.
"That's probably as little talent as I've seen anybody put on the floor in the long time with everybody hurt," Orlando coach Stan Van Gundy said. "Yet they were able to fight and stay competitive. The guy's done a great job there."
Despite the losses, Frank was expected to last through the four-game trip out West that ends Sunday, with management wanting to give him time with a regular roster. But they decided it was time for a change after the Nets fell far behind in losses at Denver and Sacramento.