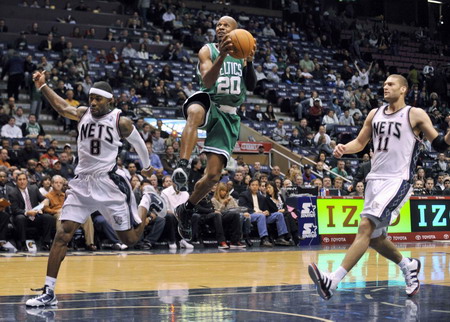 Boston Celtics guard Ray Allen splits the New Jersey Nets defense of guard Terrence Williams (8) and center Brook Lopez (11) for an easy layup in the fourth quarter of their NBA basketball game in East Rutherford, New Jersey, November 7, 2009. [Agencies] 
EAST RUTHERFORD, NJ: Boston's Big Three against New Jersey's Great Eight had the look of a mismatch.
Instead, the Celtics had to work hard to keep the injury-decimated Nets winless.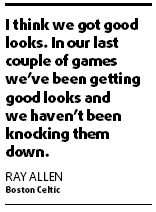 Rajon Rondo and Paul Pierce each scored 16 points and Boston bounced back from their first loss of the season with an 86-76 victory on Saturday night.
It was a struggle though, as the Celtics could never pull away from a Nets team that barely had enough players to start a game.
Related readings:


 Peak signs two more NBA players


 Celtics beat Hornets to improve to 4-0


 A tall order but Sun still has his sights set on NBA
"I didn't think we had a lot in the tank. I could see that, that's why I sat our starters long stretches today," Boston coach Doc Rivers said. "I was just trying to milk the game as long as I could get it and then play at the end and we had enough to win."
Ray Allen came alive after three dismal quarters to score eight of his 12 points in the fourth quarter for the Celtics (7-1), who lost 110-103 to Phoenix on Friday night, allowing 20 more points than in any previous game.
Their defense was back on Saturday -- and it needed to be because the Celtics couldn't shoot for most of the night. Boston finished with an NBA season-high 20 steals, five by Rondo, scoring 19 points off New Jersey's 24 turnovers.

Kevin Garnett shot 3 of 13 but added nine points and 13 rebounds for the Celtics, who beat the Nets for the 10th straight time, their longest winning streak in the series since claiming 11 in a row from 1980-82.
"We expect that short-handed guys are going to come out and play hard. We didn't take them for granted, they just played hard and executed," Pierce said. "We're playing a team that's desperate. They haven't won. They've got everything against them."
Brook Lopez, the only regular starter available, scored 23 points and Rafer Alston had 20 for the Nets (0-7), who likely ran out of gas in the fourth quarter while playing with only eight players.
"Our theme going in was 'none of us is strong as all of us' and it literally came to fruition. In a seven-game stretch, go figure," Nets coach Lawrence Frank said. "Our guys got a great deal of pride and they're trying to win. It's a credit to the character in that lockerroom."
Starting forward Chris Douglas-Roberts tested positive for swine flu and Courtney Lee has a strained left groin, leaving the Nets with the NBA minimum amount of players in uniform.
"Well, we're down to the great eight," Frank said before the game.
That was good enough for 3 1/2 quarters until Allen, who was 1 of 7 through three periods, knocked down a pair of jumpers for an 80-72 lead with 4:09 to play.
"I think we got good looks," Allen said. "In our last couple of games we've been getting good looks and we haven't been knocking them down. It's just building ourselves into our rhythm throughout the course of the season."
The Nets scored the first five points and led by as much as eight before the Celtics tied it at 18 after one. Neither team had any flow in the first half, with the Nets committing 15 turnovers but Boston converted them into only six points.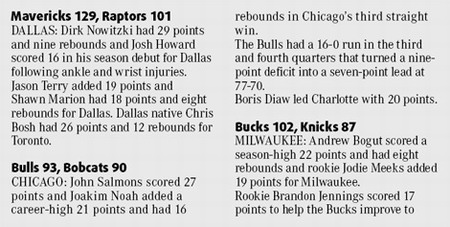 AP