MELBOURNE - Tiger Woods managed to avoid the mayhem and hype awaiting him by slipping quietly into Melbourne on Monday to prepare for his first tournament in Australia for more than a decade.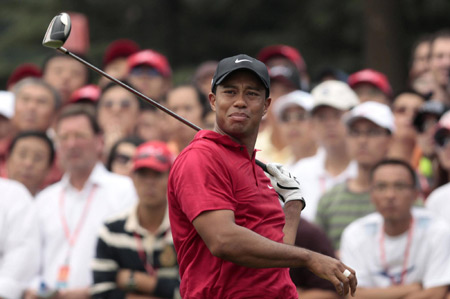 Tiger Woods of the U.S. tees off on the fifth hole during the 2009 HSBC Champions golf tournament in Shanghai November 8, 2009. [Agencies] 
The world number one arrived in a private jet after flying in from Shanghai overnight and was immediately whisked away with his entourage to an unknown destination before his first round of public appearances on Tuesday.
Woods has been paid a $3 million appearance fee -- more than 10 times the prizemoney on offer for winning the tournament -- to play this week's Australian Masters, an event co-sanctioned by the European and Australian PGA Tours.
Woods has played in Australia on just three occasions, without winning. His last appearance was at the 1998 Presidents Cup in Melbourne when his American team lost to the Internationals for the first and only time.
He had already won his first U.S. Masters title when he last played in Australia but has won 13 majors since and his current appearance has generated unprecedented interest in the Australian Masters, to be played from Thursday at the notoriously tricky Kingston Heath course on Melbourne's famed sandbelt.
Organisers put up the house-full sign after all 100,000 spectator tickets were snapped up within hours of sale.
Woods will also attend a gala dinner function at Melbourne's casino on Tuesday and hold his first news conference.
The American will also play in a charity event for the survivors of the bushfires outside of Melbourne earlier this year that killed 173 people and destroyed more than 2,000 homes.