DENVER - Chauncey Billups guided the resurgent Denver Nuggets to a first Western Conference finals since 1985 on Wednesday with a 124-110 victory over the Dallas Mavericks.
The guard recorded 28 points and 12 assists to complement Carmelo Anthony's team-high 30 points as the second-seeded Nuggets sealed the best-of-seven series 4-1 in front of their delighted home fans.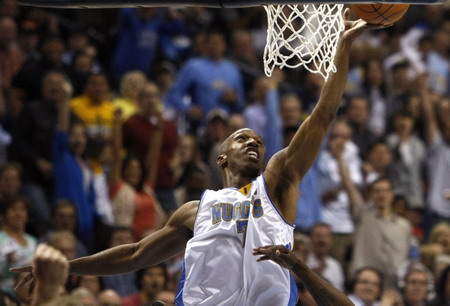 Denver Nuggets guard Chauncey Billups goes to the hoop over the Dallas Mavericks during Game 5 of the NBA Western Conference semi-final basketball playoffs in Denver May 14, 2009(Beijing Time). [Agencies] 
Denver will play the winner of the Los Angeles Lakers-Houston Rockets semi-final for a place in the NBA championships. The Lakers lead that series 3-2.
"We're very dangerous," Billups told reporters.
"Our defense is out there paying attention to the finer things and our offense is explosive. We're moving on to bigger and better things and hopefully we remain successful."
Dirk Nowitzki had 32 points and 10 rebounds for the Mavericks, who were held at arm's length for most of the game but managed to pull within six points in the fourth quarter before their rally fizzled out.
Related readings:


 Dallas keep NBA playoffs alive


 MVP James leads Cavs to victory, Nuggets beat Mavs


 Anthony leads with 34 as Nuggets eliminate Hornets


 Lakers advance, Nuggets rout Hornets


 Anthony back as Nuggets down Blazers
Dallas got 19 points and nine assists from Jason Kidd and made 12 three-pointers but could not slow down the home team.
Anthony drained a pivotal three-pointer with 6:35 remaining to establish a 106-97 lead as the Nuggets shot 58 percent from the field and collected 31 total assists led by on-court leader Billups.
Billups was traded to his hometown Denver in November and ignited a franchise that had suffered five straight first-round playoff exits.
An NBA champion with Detroit in 2003-04, Billups will be involved in a seventh straight conference finals series after leading the Pistons to six consecutive Eastern Conference appearances.
"He's the leader. He came to this team and brought a business-like attitude and a defensive mindset," Anthony said.
"It's special. We stuck through everything and overcame a lot and we still have a lot of business to take care of."