A rookie ball player caught the media's attention Tuesday when the China Volleyball Association released the new training roster for the men's national team. Ding Hui, who turns 20 this June, is the first black player in Chinese history to be chosen for the national squad.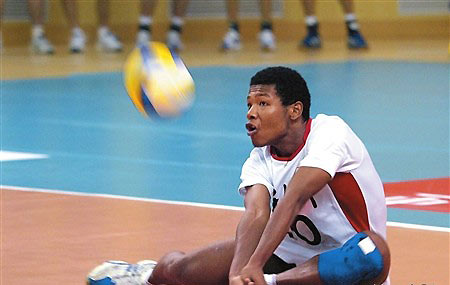 Ding Hui in action during a league game for Zhejiang team, file photo.  [china.org.cn]
Ding's father is from South Africa, but he was brought up by his mother in Hangzhou, the capital of east China's Zhejiang province. He showed early promise as an athlete and was accepted into a special sports school.
In 2003, he became a member of the provincial volleyball team and later progressed to the national junior squad. His selection for the senior squad is the logical progression for the talented youngster who plays in the libero position.
Starring at the Youth World Championships
Ding first grabbed public attention at the World Youth Championships in Mexico in 2007 when the Chinese team took a surprising second place.
The 1.85-meter player deeply impressed Zhou Jian'an, head coach of the national team. "I've been watching him play for some time. He is in good physical condition and has great potential, but he is a little young to play at the Beijing Olympics," Zhou said in 2007.
A year later, Zhou recruited Ding for the new national squad that will train for the London Olympics. The coach acknowledged that Ding had brought media attention but denied this was the reason for his selection. "We pick players for their ability and to meet the needs of the team as a whole," said Zhou. "He's no different from the other players. They are all Chinese."
Ding echoed the coach, saying that he didn't want to be treated differently from the other players. But he has suddenly found himself thrust into the spotlight and has to field constant phone calls from the press.
"They all want to interview me, maybe just because I have overseas origins," said Ding. "But I want to build my reputation through my performances on the court."