DETROIT - The Detroit Pistons ended the Orlando Magic's seven-game winning streak and won their fourth successive game with an 88-82 victory on Monday.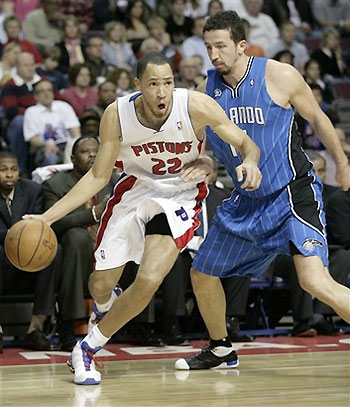 Detroit Pistons forward Tayshaun Prince (22) drives to the basket against Orlando Magic forward Hedo Turkoglu, of Turkey, in the second half of an NBA basketball game Monday, Dec. 29, 2008, in Auburn Hills, Mich. Prince scored 16 points in the Pistons 88-82 win.[Agencies]
Rodney Stuckey led the Pistons with 19 points as Detroit used its smothering defence and balanced scoring to cool off the Magic (24-7), who have the third best record in the Eastern Conference.
Rasheed Wallace and Tayshaun Prince both added 16 points for the Pistons while Allen Iverson chipped in with 15.
Iverson, who joined the Pistons earlier in the season after a trade from the Denver Nuggets, said he thought he was finally adapting to the way Detroit (18-11) win games, which is by playing tight defence and sharing the ball.
"This is a different feeling, but I like it a lot," Iverson told reporters. "I've won four scoring titles and I've scored 23,000 points, so I've done a lot of big things when it comes to scoring the basketball, but now I've got different goals."
"I have a different job here, not just scoring points.
"This team is all about winning and doing what it takes and that's what I want to do now."
The Pistons held Orlando to just 16 points in the final quarter, snuffing out any thoughts of a Magic fight back.
"We didn't compete on the defensive end in the first half, and we didn't finish the game," Orlando coach Stan Van Gundy said.
Related readings:


 Pistons cool off hot Cavaliers


 Iverson's debut delayed but Pistons win


 Pistons tame Bobcats to remain unbeaten


 Pistons hope they've found The Answer they are looking for

"That's not the kind of effort you need to beat a quality team like that."
Rashard Lewis led the Magic with 23 points while Dwight Howard had 18 points and 18 rebounds.
"We were able to fight back into the game, but we then turned the ball over and made a lot of mistakes," Lewis said.
"We were still fighting, but we couldn't make that one play."