AUBURN HILLS, Michigan - The Allen Iverson-led Detroit Pistons cooled off their second hot NBA team in less than a week, beating the Cleveland Cavaliers 96-89 on Wednesday.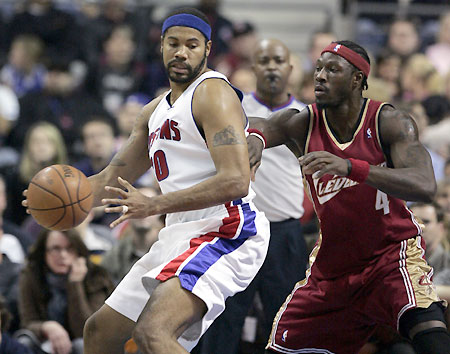 Detroit Pistons forward Rasheed Wallace (L) drives against Cleveland Cavaliers forward Ben Wallace during the second half of their NBA basketball game in Auburn Hills, Michigan November, 19, 2008. [Agencies]
After inflicting the Los Angeles Lakers first loss of the season on Friday, the Pistons proved too good for a Cleveland team that came into the game having won eight straight.
Iverson had 23 points, leading a fourth-quarter surge that sealed the game and moved Detroit within half a game of the Cavaliers, who lead the Central Division. Nuggets 91, Spurs 81.
In San Antonio, Chauncey Billups scored 22 points, leading Denver's victory over injury-riddled San Antonio.
Carmelo Anthony added 21 for the Nuggets, who have a 7-1 record since Billups arrived in the trade that sent Iverson to Detroit.
The result maintained Denver's co-leadership of the Northwest Division, and snapped the Spurs' three-game winning streak. Jazz 105, Bucks 94.
In Salt Lake City, Utah stayed undefeated at home and extended their mastery of Milwaukee to eight straight games.
C.J. Miles scored a season-high 25 points for the Jazz. and Carlos Boozer added 20 points and 11 rebounds before leaving because of a strained quadriceps.
Utah kept pace with Denver as leaders of the Northwest. Raptors 101, Heat 95.
In Miami, Toronto gave up most of a big lead but held on to beat a Miami team led by a stellar Dwayne Wade performance.
Andrea Bargnani scored a season-high 25 points and Jermaine O'Neal added 16 points and 17 rebounds for the Raptors.
Wade finished with season highs of 40 points and 11 assists, plus added a career-best five blocks. Since blocks became an official stat, the only other player to have a 40-10-5 effort was Alvan Adams of Phoenix in 1977, according to the Elias Sports Bureau.
Toronto squandered much of a 17-point, late-third-quarter lead but ultimately scrambled to beat Miami for the second time in four days. Trail Blazers 116, Bulls 74.
In Portland, Oregon, the hosts built a 30-point lead in the first half and went on to trounce Chicago.
Greg Oden had 11 points, 10 rebounds and three blocks in his home debut. Oden, sidelined all of last season by a knee injury after being the top draft pick, entered the game to a standing ovation in the first quarter and dunked seconds later. The 7-footer had his third double-double in four games after missing six of Portland's first seven games this season because of foot injury. Mavericks 96, Rockets 86.
In Houston, Dallas notched its third straight win over its Texas rival Houston.
Jason Terry scored 31 points and Dirk Nowitzki added 24 points and 12 rebounds for the Mavericks. Kings 105, Hornets 96.
In New Orleans, John Salmons scored 29 points to lead Sacramento over New Orleans.
Bobby Jackson had all eight of his points in the final 5:10 for the Kings. Hawks 91, Wizards 87.
In Atlanta, Marvin Williams hit the go-ahead 3-pointer with 26 seconds left as Atlanta snapped a four-game losing streak by downing Washington. Timberwolves 102, 76ers 96.
In Minneapolis, Minnesota ended an eight-game losing skid by defeating Philadelphia.
Al Jefferson scored six of his 25 points in the final 3-1/2 to shore up fivctory for the Timberwolves, who won for the first time since their opening game of the season. Clippers 108, Thunder 88.
In Oklahoma City, Los Angeles put together a 23-4 run during the third quarter to overwhelm struggling Oklahoma City.
Cuttino Mobley scored 12 of his season-high 23 points during that burst, and added a career-high seven steals.