BERLIN -- Los Angeles Galaxy forward Landon Donovan has moved on his perspective in German Bundesliga Bayern Munich after impressing coach Jurgen Klinsmann on his 10-day trial.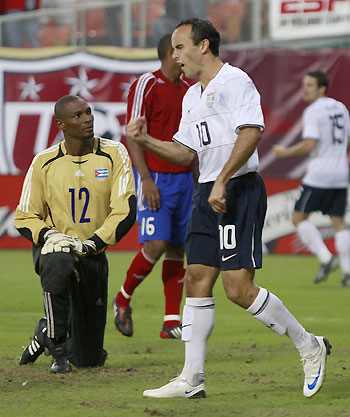 Landon Donovan of the USA (R) celebrates his goal against Cuba alongside their goalkeeper Odelin Molina during the second half of their 2010 World Cup soccer qualifying match at RFK Stadium in Washington, October 11, 2008. [Agencies]
On Tuesday, Donovan was named US football's Player of the Year for the fifth time, the same day he started a ten-day trial with Bayern while his United States club Galaxy are on their annual winter break.
"Landon is a player who bring all sorts of qualities, he has developed into one of the top players in North America and Mexico, " said Klinsmann.
Donovan said he is enjoying his time in Munich and is keen to stay.
A decision on whether Donovan becomes a permanent Bayern player will be taken at the end of next week.
Donovan has a contract with Galaxy which runs until 2012 and with 105-caps to his name, his market value is around 2.5 million euros (3.1 million US dollars).
Just like Galaxy's other star, former England captain David Beckham who will join AC Milan for three months later this winter, Donovan may also sign only a short-term contract with Bayern.