LOS ANGELES _ Landon Donovan was voted the top US football player of 2008, becoming the only five-time recipient on Tuesday.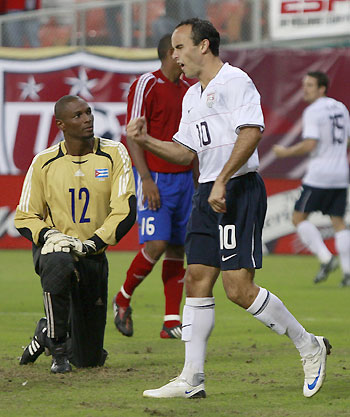 Landon Donovan of the USA (R) celebrates his goal against Cuba alongside their goalkeeper Odelin Molina during the second half of their 2010 World Cup soccer qualifying match at RFK Stadium in Washington, October 11, 2008. [Agencies]
Donovan led Major League Soccer in scoring this year with 20 goals for the Los Angeles Galaxy. With 37 goals in 105 internationals, he became career scoring leader for the United States.
He began training with Bundesliga champion Bayern Munich on Tuesday.
"This has been an interesting week for me," Donovan said by telephone. "This opportunity was too good for me to pass up."
In a vote by a nationwide panel of journalists, Donovan finished with 297 points. He was followed by Everton goalkeeper Tim Howard with 249 points and Fulham forward Clint Dempsey with 176.
Donovan also won the Honda Award in 2002, 2003, 2004 and 2007.
His previous stints in Europe were failures. After signing when he was 16, Donovan never got into a match when he was with Bayer Leverkusen from 1999-01. Following four seasons with the San Jose Earthquakes, he returned to Leverkusen in 2005. He lasted just a few months, failing to score in seven Bundesliga appearances and two more in the European Champions League.
He played poorly in a Champions League match against Liverpool, grew homesick for then-girlfriend (now wife) Bianca and returned to MLS three weeks later, joining the Galaxy.
"I'm a different player than I was then, competing for a spot," Donovan said. "While at the time it seemed like everything was against me, the reality was I just wasn't ready yet. Now I know I'm ready and want the chance to prove myself. In my mind, I just want to know if it's possible."
He is training for 10 days with Bayern, coached by Juergen Klinsmann.
Donovan's agent, Richard Motzkin, said it was premature to speculate whether Donovan will have a chance to play for a European club.
"It's a situation where Juergen and Landon had known each other for years. It was an opportunity to go over to train and stay fit and it made sense for everybody," Motzkin said.