DETROIT - Eager to prove she is not a spent force at 19, former world figure skating champion Kimmie Meissner says she is ready to claim back her place among the world's elite.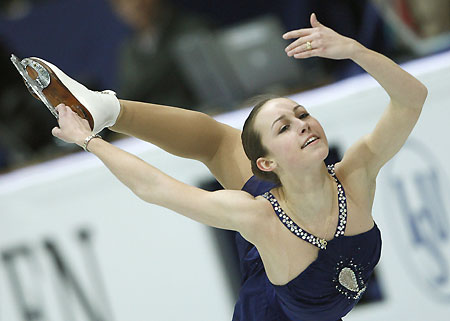 Kimmie Meissner of the US performs during the women's free skating programme at the World Figure Skating Championships in Gothenburg March 20, 2008. [Agencies]
A world champion at 16, Meissner's results have been on a steady downward spiral since she triggered a complete career makeover late last season when she sacked long-time coach Pam Gregory and moved out of the family home in Bel Air, Maryland, to train with Richard Callaghan in Coral Springs, Florida.
While coaching changes are not uncommon among top figure skaters, Meissner's move was unexpectedly bold, if not desperate, as the young American tried to rescue a floundering career.
The results of those seismic changes will be on display starting on Friday at Skate America in Everett, Washington.
Meissner says she has already won back much of her lost confidence over a summer of intense training with Callaghan, the former coach of 1998 Olympic champion Tara Lipinski and 1996 world champion Todd Eldredge.
"I have a lot of different goals but mainly I just want to come out and be consistent every competition and just kind of get my confidence back in competing," said Meissner during a teleconference ahead of Skate America.
"Every competition I go into I have different goals. I'm just trying to take it one step at a time."
PALM TREES
Living on her own for the first time, Meissner said the unfamiliar sounds such as palm trees rustling in the breeze had kept her awake at night in Florida but at least last season's results on the ice no longer give her nightmares.
Three years ago, the bubbly American was the toast of her sport, captivating fans and judges with a combination of daring athleticism and girlish charm to claim the 2006 world title.
Hailed as the heir apparent to Michelle Kwan, Meissner followed up her world triumph with victories at the Four Continents and the US championships, to hold all three titles at once.
Soon afterwards, though, Meissner's performances began to unravel.
In January, she stumbled to an embarrassing seventh place finish at the US Nationals, hitting the ice three times during her long programme as 14-year-old Mirai Nagasu skated away with her crown.
A few months later at the worlds in Sweden, a tumble-filled skate left Meissner in seventh place again.
DIFFERENT WAY
"It was a pretty big change moving down to Florida," said Meissner. "It took me a while to get used to living alone, pretty much every noise scared me.
"My training is a bit different. I've been trained in a certain way and now I'm trying to learn a different way.
"I got to a certain point where I just had to make a change and re-learn everything to kind of keep it fresh and exciting.
"Obviously as I've grown up my skating has had to grow with me."
That maturity will be reflected in Meissner's choices of music this season. She will skate her short programme to a French piano piece "Un Ange Passe" and her long to Vivaldi's "Concerto Grosso No. 11 in D minor".
"I hope they will be able to see the emotion," said Meissner. "I enjoy working with Mr. Callaghan a lot. I have so much respect for him. He helped me a lot with my confidence and just to believe in myself again."