The Chinese figure skating team will leave for the 2008 World Figure Skating Championships tomorrow and the skaters are eager to give their best performances to see where they stand for the 2010 Vancouver Winter Olympic Games.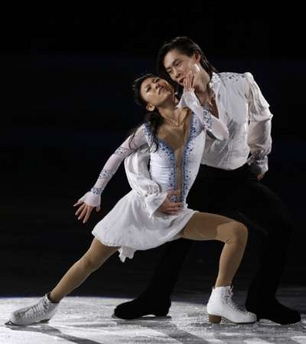 China's Pang Qing (L) and Tong Jian perform during a gala exhibition at the ISU Four Continents Figure Skating Championships in Goyang, northwest of Seoul February 17, 2008. [Agencies] 
"The team is ready for the upcoming World Championships," said Yao Bin, head coach of the team. "It will be an important preparation event for the 2010 Winter Games and we will try our best to leave a good impression on the judges."
The 2008 World Championships will be held from March 17-23 in Gothenburg, Sweden.
Chinese skaters will be favorites in the pairs events since 2006 world champions Pang Qing/Tong Jian, Olympic silver medalists Zhang Dan/Zhang Hao and newly crowned world junior bronze medalists Dong Huibo/Wu Yiming are all set to compete.
"The team is in good condition now, although Zhang Hao suffered a small operation for skin problems last week," Yao said. "Zhang has recovered enough for training right now and it should be OK for him at the competition."
Chinese skaters are still trying to familiarize themselves with the new scoring system. Yao said there will be tiny adjustments in the skaters' routines at the Worlds, but they will keep the same difficulty levels as in previous competitions.
German pair Aliona Savchenko and Robin Szolkowy, two-time European champions and gold medalists at this season's Grand Prix Finals, will be the strongest opponents for the Chinese pairs.
"Our two veteran pairs Pang/Tong and the two Zhangs are on the same level with the German duo, so the victory depends on how they perform on ice," Yao said. "The Chinese pair will try to make fewer mistakes and do as well as they can."
It will be the first appearance for young pair Dong/Wu at the Worlds. Yao said there is still a big gap between them the world's top pairs so it is hard to predict their results.
Contrary to the lack of skilled Chinese backups, other figure skating powerhouses like Russia, the US and Canada all have several young pairs competing in international events.
"Through two years of competition since the 2006 Winter Games, the Olympic squads for the 2010 Games has been roughly decided in all the countries and this World Championships will be another test for the teams," Yao said.