Coach Sun Haiping said his Olympic and world 110m hurdles champion Liu Xiang would receive crucial treatment after seeking medical advice in the United States, local media reported.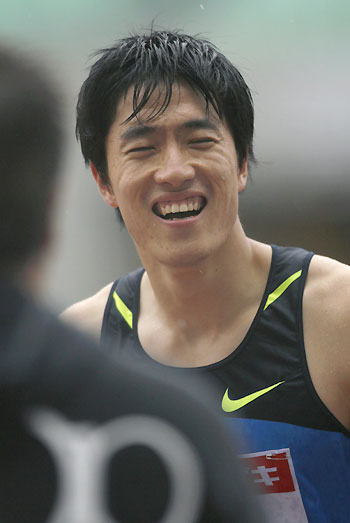 Liu Xiang of China smiles after winning the men's 110 metres hurdles final at the IAAF Japan Grand Prix in Osaka May 10, 2008.  [Agencies]
Sun, Liu and his Chinese doctor will leave for the United States on October 29 and their first stop will be Houston, where Chinese basketball star Yao Ming plays for the Rockets, Sun said to the Dongfang Daily based in Shanghai.
The Chinese group planned several stops in the US to consult medical experts for the Achilles injury that destroy Liu's hope of defending his Olympic title on home soil on August 18 in Beijing.
Sun said Yao's doctor also will be there for consultation.
"We are anxious to let Liu have the decisive treatment but need to wait until Chinese and foreign experts reach an agreement on how to do," Sun was quoted by the newspaper on Tuesday.
"We will work together to find the best solution for Liu," said Sun.
"Liu needs to heal from this injury once and for all," he said.
Since Liu's dumbfunding retirement from the first round of the men's 110m hurdles at the Beijing Olympic Games due to an inflammation of his right Achilles' tendon, the 25-year-old Shanghai native has been invisible from public sight while healing from this chronic injury, which Sun said had sustained for years and deteriorated just ahead of the Games.
Despite there is a possibility of surgery, Liu and Sun have from the beginning preferred a more cautious, less interventional approach to the injury.
The coach also confirmed he was more in favour of a mild treatment such as massage and Chinese traditional medicine, as he was concerned an operation might cause ever-lasting impairment to the tendon.