AUGUSTA, Ga. - Trevor Immelman reclaimed the top spot on the Masters leaderboard Saturday, looking to give himself a little breathing room with Tiger Woods looming.
The world's No. 1 player made the most of moving day, climbing into contention for his fifth green jacket despite squandering numerous chances to get even closer to the lead at damp Augusta National.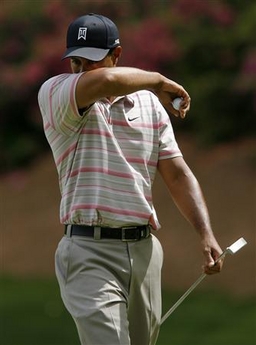 Tiger Woods of the US walks off the 13th green after scoring a bogey during the first round of the 2008 Masters golf tournament at the Augusta National Golf Club in Augusta, Georgia, April 10, 2008. [Agencies]
Trying to overcome a daunting seven-shot deficit at the start of the third round, Woods was five strokes back after shooting a 4-under 68, certainly making those ahead of him -- including the steady Immelman -- a little nervous.
"I put myself right back in the tournament," Woods said.
Imagine if he had made a few putts.
After rolling in a 25-footer for birdie at No. 2, he began a stretch of four straight holes with birdie tries of no more than 15 feet starting at the fifth. He missed them all, including a 6-footer at No. 8. Then, after a nifty bunker shot stopped 8 feet past the cup at the par-5 15th, Woods putted wide left.
"That was probably about as high a score as I could have shot today," he said. "If I had made a few more putts, I'd be right there. But I'm right there anyway."
Immelman, the 36-hole leader, was never more than a shot off the pace Saturday and went back in front with a pinpoint wedge at the par-5 13th, giving himself a tap-in birdie. He curled in another birdie at the next hole to get to 10 under.
Smiling all the way around the front nine, Brandt Snedeker had the lead when Immelman made a bogey at No. 4. But the grin faded when the former U.S. Amateur Public Links champion made three straight bogeys around Amen Corner, a dismal stretch that included dumping one into the creek at 13.
Paul Casey shot 32 on the front side and was maintaining his 4 under pace as the breeze picked up and the temperature dipped once early afternoon showers moved out. The Englishman was one stroke behind Immelman with two holes left to play.
Steve Flesch and Snedeker were tied for third at 7 under.
Phil Mickelson, trying to win his third green jacket in five years, looked to be out of it when he had for bogeys in seven holes. But he bounced back with birdies at 13 and 14, pushing him to 4 under.
Lefty got a tough break at the par-5 eighth, hitting the flagstick with a shot that likely would have given him an easy birdie attempt. Instead, the ball nearly ricocheted off the front of the green and he wound up three-putting.
Then there's Woods, who hopes to get started on an unprecedented Grand Slam. He pulled within four strokes of Snedeker with a gimme birdie at No. 17, the approach nearly going in the hole for eagle. Then, after driving into the trees left of the 18th fairway, he knocked it on the green from the pinestraw and made a testy 7-footer to save par.
Woods breathed a sign of relief as he walked off the green, though it's worth noting: He's never won a major -- and he's done it 13 times -- when trailing after 54 holes. He's at 5-under 211.
"I hit a lot of good putts that were not quite the right speed or the right line," he said. "When that happens, you've got to pay the price."
Defending Masters champion Zach Johnson bolstered his still-faint hopes of winning a second straight green jacket by shooting a 68, bringing his total to 214.
After two days of warm, sunny weather, the Masters turned wet. The third round was briefly halted because of heavy rain that left giant puddles on several greens.
Umbrellas popped up all over the course as play began in a light drizzle. With the leaders still waiting to tee off, the horns sounded and play was halted at 1 p.m. when a line of heavy storms moved over the course. Play resumed after a 45-minute delay, the puddles on the 12th and 18th greens having been pushed aside with squeegees.
Players couldn't be too excited about the prospect Sunday of gusts up to 20 mph, especially down in Amen Corner. Temperatures in the 60s are also expected.
Woods, who had proclaimed the Grand Slam "easily within reason," will need the second-greatest 36-hole rally in Masters history to keep his quest going beyond April.
Only Jackie Burke, who overcame an eight-shot deficit to win in 1956, rallied from farther back at the midway point.