China's women's soccer team is trying to move on after the crushing blow of last year's World Cup disappointment and the subsequent coaching reshuffle. But the team's progress seems far short of what it will need to reach its Olympic semifinal target with the Games just six months away.
The latest proof came as the former powerhouse lost to the US 1-0 following an unconvincing 2-0 victory over minnow Finland and a lackluster 0-0 draw against Canada in last week's four-nation tournament in Guangzhou.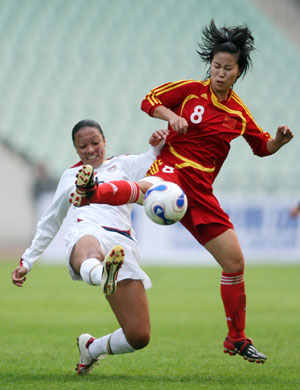 Chinese player Zhang Na (right) fights for the ball with a US player during the four-nation women's soccer tournament in Guangzhou last Sunday. China lost the match 1-0 and finished second behind the US.  [Xinhua] 
"I do not see anything special from the new national team," said Sun Wen, FIFA's Women's Player of the 20th Century and the best-known female player in the late 1990s during China's prime. "China just played a normal match. The progress and result tell our real level in the world at this point."
With formidable World Cup winner Germany and upstart runner-up Brazil posing a nearly impossible challenge, China has to at least overpower the US, Norway or Sweden if it wants to grab a semifinal berth in Beijing.
But there seems to be a big gap even between China and US, narrowing China's chances if it meets the US in the Olympic quarterfinals.
The US, which was trounced 4-0 by Brazil in the World Cup semifinal, had two easy wins over Canada (4-0) and Finland (4-1) before dominating China in the final.
Coach Loisel was impressed with the Americans' speed and strength, but thought her players could still improve.
"They are stronger and faster on the pitch, so I have to move the overall formation backward," said Loisel, China's seventh head coach in four years. "But I'm very happy with our team's defense. I believe through different training and competition, we'll get good results."
US coach Pia Sundhage was China's assistant coach during the reign of fellow Swede Domanski-Lyfors. She said the US is stronger than China and suggested China would have a tough time reaching its semifinal goal.
"We are aiming to win the Olympic gold medal," she said. "I know China wants to at least come into the semifinal and then fight for a medal. But we are stronger than China and actually there are six to seven teams like us who have the power to win a gold in Beijing."
After teaching China's team how to attack and defend just a few months ago, Sundhage also suggested China must find a balance between skill and physical development.
"China is a skilled team and has balanced transition between offense and defense. But they are not strong enough and lack the speed.
"I saw their improvement under the new coach, but I know the semifinal places big pressure on China's coaching team."
Headache in front
Loisel got her reign off to a perfect start with back-to-back victories over New Zealand during last December's first training session.
Those matches also marked a return to form for leading striker Han Duan, who ended her three-month international goal drought by scoring the second goal. But Han failed to find the net at all last week.
There was also bad news for Han's strike partner Ma Xiaoxu, who ruptured a right-knee ligament during the first training session. The Golden Ball and Golden Shoe winner of the 2006 FIFA U-20 Women's World Cup underwent surgery in Beijing and will be sidelined at least three months.
With only two goals in three matches - none from strikers - and younger players still unable to simulate Ma's offense, Loisel said more work must be done to increase the team's scoring chances.
"Han is short of stamina and our young strikers have to work harder to catch up.
"It's impossible to develop another Ma Xiaoxu in such a short time. All I can do is pay extra attention to our attacking ability in the next six months and hope some of them could get up to Olympic standards."
Loisel has promised to develop a skilled and aggressive team but her tactics against the US were criticized by media as the Chinese held off the Americans with a conservative, low-pressure game, sagging back in their own half of the field most of the time.
"It does not mean China is too weak to attack against the US. We use different defensive tactics against different rivals. If we are focused on attack, the result could be worse than 1-0.
"We will not depend on defense to prepare for the Olympics. We will play more aggressive matches based on good defense in the future. I believe our players have such ability."
The squad was dismissed on Monday and will reassemble just before China's Lunar New Year for its third training session and the East Asia Football Championship, which kicks off on February 17 in Chongqing.