TORONTO - The Boston Celtics eased to a ninth consecutive victory with a dominant 90-77 road win over the Toronto Raptors on Sunday.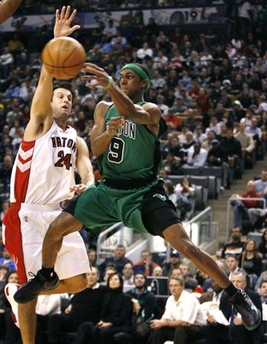 Boston Celtics guard Rajon Rondo (R) passes the ball past Toronto Raptors forward Jason Kapono (L) during the first half of their NBA basketball game in Toronto December 16, 2007. [Agencies]
Paul Pierce led the scoring with 18 points and Kevin Garnett added 16 as Boston improved their NBA-best record to 20-2 in bringing an end to the home team's four-game winning streak.
Four other Boston players reached double figures with Rajon Rondo scoring 14, Eddie House 11 and Tony Allen and James Posey 10 each.
Chris Bosh had 17 points and 13 rebounds as the Raptors experienced season lows for points, field goals and field-goal attempts against a tough Boston defense.
"It's our philosophy that defense is going to win games for us, and we're trying to have our defense fuel our offense," Garnett told reporters.
The Raptors made only 38.9 percent of their shots, slightly higher than their 36.7 percent effort against the same opponents last month.
"That's going to be our staple pretty much all year long," Pierce told reporters when asked about the Celtics' emphasis on defense.
"We take pride on the defensive end," he added. "Regardless of who's out there, that's going to be the make-up of our team.
"When teams think of the Boston Celtics, they're going to think of a defensive-minded group."
The Celtics opened the game with a 6-0 run on two Garnett jumpers and a Pierce layup.
The margin had stretched to 10 by the end of the first quarter and once Allen had given the Celtics a 40-19 lead with a three-pointer in the second quarter, the visitors were able to cruise all the way to the final buzzer.
"They are very long and athletic, and the plays we usually make just weren't there," Toronto's Bosh told reporters.
"They play good team defense. They clog up the lane and contest every shot."
*The Portland Trail Blazers won their seventh straight game, topping the Denver Nuggets 116-105 behind Brandon Roy's 26 points and 11 assists. Channing Frye added 20 points as Portland snapped a nine-game losing streak in Denver. Allen Iverson had 38 points for the Nuggets.
*The Detroit Pistons breezed to a 109-87 home win over the Golden State Warriors. Tayshaun Prince had 23 points and Chauncey Billups 19 for the Pistons. Antonio McDyess added 14 points and 11 rebounds. Reserve Matt Barnes led the Warriors with 15.