LOS ANGELES - Kobe Bryant scored 30 points and the Los Angeles Lakers broke open a tight game in the late going to beat the short-handed San Antonio Spurs 102-97 on Thursday night for their fourth straight victory.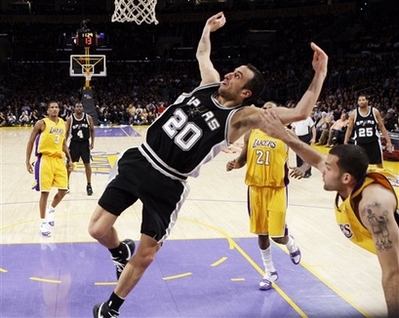 San Antonio Spurs Manu Ginobili, from Argentina, (20) falls as he is fouled by Los Angeles Lakers Jordan Farmar, right, during the fourth quarter of the basketball game at the Staples Center in Los Angeles Thursday, Dec. 13, 2007. [Agencies] 
The defending NBA champion Spurs (17-5), losers of two straight for the first time this season, played without stars Tim Duncan and Tony Parker.
Duncan, averaging 17.6 points and 8.9 rebounds, sat out his fourth straight game because of a sprained right ankle. Parker, averaging 20.1 points and 6.8 assists, missed his first game of the season with a sprained left ankle.
After Bruce Bowen's 3-pointer early in the fourth quarter tied the game at 81, two baskets by Vladimir Radmanovic triggered an 18-5 run that gave the Lakers a 99-86 lead with 3:40 remaining. San Antonio scored the final five points after the outcome had been decided.
Lamar Odom had 15 points and eight rebounds and Radmanovic added 10 points for the Lakers (13-8).
Bowen led the Spurs with 22 points - two off his career high. Brent Barry added 17 points, Manu Ginobili scored 14 and Fabricio Oberto had a career-high 16 rebounds to go with nine points.
Lakers center Andrew Bynum picked up two technical fouls and was ejected with 4:32 left in the third quarter and the Lakers leading 63-59. He left with six points and 11 rebounds.
The Spurs got a 3-pointer from Michael Finley and two more from Bowen for a 72-69 lead - their first since the opening minute of the second quarter. They led 74-72 entering the final period.
The Lakers led by as many as 10 points in the second quarter before settling for a 51-43 halftime lead. Bryant had 16 points at the half, with none of his teammates scoring more than five.
The Lakers shot 1-of-14 to start the game, but trailed by only one point entering the second quarter. San Antonio reserves scored 12 of their team's 19 points in the period.