ROME - Anytime over the next day or two, one of the worst-kept secrets in football should be revealed as Fabio Capello is named the new manager of England.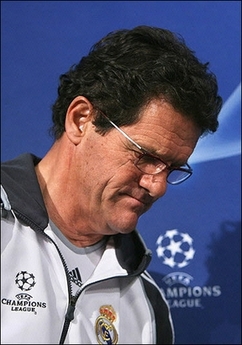 Fabio Capello, seen here in 2006, began plotting England's renaissance on the international football stage as his future employers at the Football Association (FA) put the finishing touches to the terms of his appointment. [Agencies] 
Following the serious under-achievement of the national team under Steve McClaren, who failed to take England to the Euro 2008 finals, Football Association
powerbrokers are thought to have decided to plump for someone with a considerably stronger CV than the former Middlesbrough manager.
And when former Chelsea boss Jose Mourinho ruled himself out of the running, Capello became the favorite for the post.
The FA issued a statement saying the talks were "extremely positive and without any problems".
Capello reportedly met FA chief executive Brian Barwick at Wembley stadium. Accompanied by an FA security official, he then headed for Heathrow airport where he flew out of the country.
"I can confirm that Brian Barwick and Sir Trevor Brooking have today held talks with Fabio Capello in London," FA spokesman Adrian Bevington said.
"I'm pleased to say that these discussions were extremely positive and without any problems.
"Fabio has tonight returned to Italy to honor a prior commitment. Understandably, further talks are now taking place between Fabio's advisers and ourselves."
Solid track record
Capello's track record is without question having won the Italian Serie A title with three different clubs - although his two titles with Juventus were later rescinded when the club was found guilty of match-fixing - and also the Spanish La Liga crown in his only two seasons working in Spain.
What was even more remarkable about those successes, firstly in 1997 and then a decade later, is that after each title he was sacked.
The reason for that is because Capello is a master tactician and exponent of "catenaccio", a defensive style of play where a team literally plays for a 1-0 victory.
He has enjoyed immeasurable success with that style and has been adored by his clubs' owners and management - but less so by the fans, notably those in Madrid.
Even so, his greatest-ever moment came in the 1994 Champions League final when his Dejan Savicevic-inspired AC Milan trounced Barcelona 4-0, thought to be one of the best performances in the history of club football.
Such has been his managerial success that many people forget that the 61-year-old was a fine midfielder in his day, playing for Roma and Juventus as well as the Italian national team.
In fact, those with long enough memories might recall Capello scoring the winner for Italy at Wembley against England.
But it is his managerial career that is most impressive. He made his name in the early 1990s when leading Milan to four Serie A titles in five seasons as well as the European Cup in 1994.
He then moved on to Real where another title followed in his only season there and a year after leaving he took charge of Roma. He won the title there in 2001 and then left for Juventus.
Having claimed back-to-back titles for the Old Lady of Turin, Capello quit once it became clear Juve would be demoted and although the club was stripped of those two titles, Capello had still guided a third team to championship glory on the field.
Last season he again won the Spanish crown with Madrid but his sometimes controversial team selections - he often left David Beckham and Ronaldo on the sidelines - made him unpopular with fans.
His defensive style may not be to England fans' liking either, but in a country starved for success on the field since 1966, they will quickly forgive Capello if he guides England to World Cup glory in South Africa in three years' time.