TORONTO - Chris Bosh scored 17 points to lead the Toronto Raptors to their third successive win with a 92-76 victory over the Dallas Mavericks on Wednesday.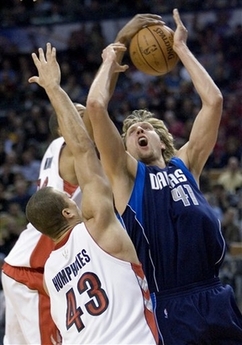 Toronto Raptors forward Jamario Moon (back) strips the ball as Dallas Mavericks forward Dirk Nowitzki (41), of Germany, drives to the hoop past Raptors forward Kris Humphries (43) during the first half of their NBA basketball game in Toronto on Wednesday Dec. 12, 2007. [Agencies] 
Kris Humphries had 16 points and 12 rebounds for the Raptors (13-10), who were without injured guard T.J. Ford, who was kept overnight in an Atlanta hospital on Tuesday after hitting his head on the floor following a foul by the Hawks' Al Horford.
Ford, who has a history of back and neck injuries that kept him out of the entire 2004-05 season, was cleared of any serious injury and returned to Toronto on Wednesday.
"We just hope we can get him past this and when he feels up to it, he'll let me know," said Toronto coach Sam Mitchell. "We are relieved he's feeling better."
Ford, who sat on the Toronto bench in the second quarter and received a standing ovation from the sell-out crowd of 19,800, said there was no timetable for his return.
"I don't know how long I'll be out, it all depends on how quickly my body recovers," said Ford.
The Raptors turned in a strong defensive performance against the Mavericks (14-9), who scored a season-low in points.
"You have to play great defence to win in the playoffs and we did that," said Bosh. "I'm really proud of my team mates."
Jason Terry had 21 points and Josh Howard added 19 for the Mavericks, although Howard left the game after being poked in the eye in the fourth quarter and did not return.
*The Indiana Pacers beat the Chicago Bulls 117-102 in a game that featured five technical fouls and the ejection of Chicago's Tyrus Thomas and Indiana's Troy Murphy following a shoving match.
*The Boston Celtics improved to 18-2 with a 90-78 win over the Sacramento Kings.
*The Charlotte Bobcats won for just the second time in 10 games, downing the Los Angeles Clippers 108-103.
*The New York Knicks lost their fourth straight game, losing 117-110 at home to the Seattle SuperSonics.
*Samuel Dalembert had 18 points, 11 rebounds and tied a career-high with nine blocked shots to lead the Philadelphia 76ers to a 98-94 victory over the Minnesota Timberwolves.