It may cause an earthquake in the sport of table tennis. But it also may be a watershed.
The popularity of table tennis has been heading downhill for years, and even fervent Chinese paddlers agree that something needs to be done to breathe new life into the sport. The answer may be a touch of fashion.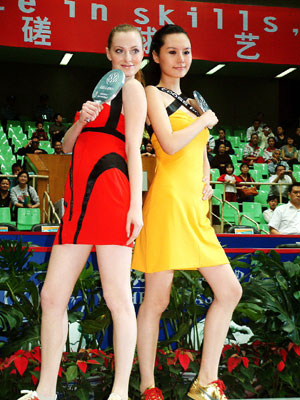 Models display the new table tennis outfits unveiled by the International Table Tennis Federeation (ITTF) during the Women's World Cup last week in Chengdu. An ITTF official said he hoped female paddlers could wear skirts instead of traditional shorts to attract more spectators. [China Daily]
Steve Daiton, director of International Table Tennis Federation (ITTF) Asia office, believes that simply changing the way female paddlers dress will increase the sport's global appeal.
"With China getting more and more dominant in the sport, the table tennis audience has gone into a decline," Daiton told China Daily. "We hope the fresh elements, especially changing female players' appearances from mannish to more feminine, will help us hold on to the eyes we are losing in table tennis, and in a fashionable way."
On the eve of National Day, as the 2007 Volkswagen Women's Table Tennis World Cup entered its final stages in Chengdu, Sichuan Province, a fashion show in the gymnasium, displaying audacious table tennis sportswear, grabbed the eyes of audiences and table tennis players alike.
"In recent years, ITTF has been trying to add more elements of fashion into the sports outfits of female table tennis players, which we hope will bring the glamour of fashion into the traditional and conservative table tennis game," Daiton said.
"However, we cannot force the players to change their shorts. I hope this show will influence and impact the sport, and give the players an opportunity to try something new."
This is not the first time ITTF has tried to encourage female players to wear skirts. During last year's Women's Table Tennis World Cup in Urumqi, capital of Northwest China's Xinjiang Autonomous Region, ITTF displayed a slide called "Super Girl in Boring Clothes". It then compared pictures of female players' shorts-wear with the more fashionable attire of female tennis players, calling for a change in the old-fashioned table tennis dress.
"Although the skirts are just a small part of the changes, they also may spark a revolution by changing the image of table tennis," Daiton said.
Kong Linghui, the former men's singles table tennis champion and current coach of the Chinese women's team, also believes the sportswear change will bring back a plummeting audience.
"The skirts will not disturb the competition, but may cause a higher audience rating," he said. "Only skills and experience decide the victory."
Cai Zhenhua, deputy director of the State General Administration of Sport, says he has always promoted the wearing of skirts in table tennis.
"Four or five years ago when I was the head coach of the Chinese table tennis team, the idea popped into our minds," he said. "Fashion is a trend. The skirts will be a benefit for the development of table tennis."
Bucking tradition?
Despite the strong urging of officials, many players are wary of a change and feel more comfortable in their traditional outfits.
World and Olympic champion paddler Wang Nan said that she has tried wearing skirts in training, but it hasn't felt quite right.
"Wearing shorts has been a habit for us for years," she said. "It's hard to change the conservative conception of table tennis sportswear."
But the 29-year-old veteran Wang agreed that as attitudes change, the traditions may follow suit.
"Sporting skirts are definitely a trend for the long-term development of this sport," she said. "Players will learn to accept it step by step."
Indeed, players may be starting to accept the idea of wearing skirts. In February, for example, Zhang Yining, the top women's table tennis player in the world wore a skirt during the Chinese women's table tennis team's round-robin match in Zhongshan, Guangdong Province. And for the fashion show at this year's World Cup, Chinese national champion Peng Luyang also wore a skirt in an exhibition game with Qiu Yike, her national team male counterpart. She had no problems with the new look.
"It feels the same as with shorts when playing table tennis - comfortable and flexible," the 21-year-old Peng said. "And for sure I prefer to be looking beautiful."
Daiton pointed out that if the traditions are going to change, the changes must begin in China.
"Table tennis is such a deep-rooted traditional sport in China and most of the leading players are from China," Daiton said. "So if there is to be a change, I think it should begin with these top players in China."
Table tennis would not be the first sport to feature female athletes in skirts. Female tennis players, for example, have long worn skirts during matches. And last year the female players on the Chinese national badminton team wore skirts during their domestic and international matches.
"If badminton players can wear skirts, why not table tennis paddlers?" said Liu Fengyan, director of the Badminton and Table Tennis Administrative Center. "Playing table tennis requires no more movements than badminton, much less even."
Fashion statement
With the support of ITTF, Volkswagen invited Lu Kun, one of China's most celebrated and innovative fashion designers, to create four stylish concept dresses especially for the fashion show at the World Cup, reinforcing the attraction of fashionable sportswear.
"Nowadays, fashion has infected every little matter in the changing world, including sportswear," said the Shanghai-based designer. "Although table tennis is a traditional sport, it also needs to be more fashionable, especially in the female players' dress.
"The current female players' outfits looks much too doughty, almost the same as the men's wear. But I believe they can also win the championships with more beautiful appearances," said Lu, who played table tennis for two years in his childhood and is now committed to "making women look more beautiful".
"We appreciate the amazingly fashionable and conceptual designs that Volkswagen and Lu brought to this competition," said Daiton.
"As an enthusiast of table tennis and with years of working experience in this game, I sincerely hope that table tennis can get more involved in fashion, so that audiences will have an opportunity to appreciate the fashionable aspects of the sports suits while enjoying the game at the same time," he added.