LONDON - It may have been Kevin Garnett's former team, but it was team mate Ray Allen's stellar play that helped the Boston Celtics notch a pre-season win against the Minnesota Timberwolves on Wednesday.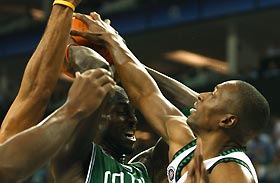 Minnesota Timberwolves' Theo Ratliff blocks Boston Celtics' Kevin Garnett during their NBA Europe Live tournament basketball game at the O2 Arena in London October 10, 2007. [Agencies]
Allen sank three 3-pointers to go along with a game-high 28 points in a 92-81 victory in front of a sellout crowd at London's O2 arena, the last stop on the Celtics' European tour.
Garnett, a 10-time All-Star and the league's most valuable player in 2004, had only nine points and six rebounds on the night.
The 6 ft 11 ins power forward was traded to Boston this summer in a record 7-for-1 trade after spending 12 seasons with the Timberwolves.
"It's a new team over there, with new faces... but when it comes to (Minnesota), I have no hard feelings," Garnett told reporters.
Minnesota's Ricky Davis led his team with 18 points, 16 of which were scored in the first quarter.
"It was definitely a different experience seeing Kev in green," Davis said of his former team mate.
"I almost threw him the ball, but then I saw him in that green jersey."
The NBA's 12-day Europe Live tour includes seven pre-season games across six cities in four countries.
Minnesota won 84-81 against Turkey's Efes Pilsen in Istanbul on Saturday while Boston beat the Toronto Raptors 89-85 in Rome on the same night.