National Basketball Association legend George Gervin has urged Chinese fans to remain patient ahead of the Beijing Olympics to allow the team to live up to its potential.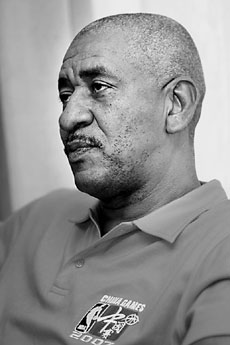 The former player known as "Iceman" is in Beijing this week to promote the NBA China Games scheduled next month and the Moto 2 v 2 Challenge, a nation-wide grassroots event staged by NBA China.
"I know fans are crazy for the Olympics but you have to be patient," the former Spurs scoring machine said.
"I am sure the Chinese team has already surprised a lot of people, Yao Ming has grown into one of the best centers in the world and the other kid (Yi Jianlian) is coming up.
"But it doesn't happen over night, it takes a long time if you really want to be a threat at international competitions like the Olympics.
"As for the United States, we had a very long time developing basketball - we played ABA (American Basketball Association) and NBA games for years."
Led by Lithuanian head coach Jonas Kazlauskas, China will look to at least equal its best showing at the Olympics, aiming for an eighth finish at the rapidly approaching home event.
Houston Rockets All-star center Yao Ming has previously expressed his desire to lead the team to the top six.
China wrapped up a three-game series against touring Australian club side Brisbane Bullets with an 82-62 win on Monday, after posting an embarrassing one-point loss in the first game.
Without Yao, who took the summer off to recover from injury and to enjoy his wedding and honeymoon, the team won just four from 17 games in three major campaigns - NBA Summer League, the Stankovic Cup and the European Tour.
"I have watched their games, they can really shoot basketball," said Gervin.
"They have a great coach, and I see China has a pretty good league, I definitely believe they will be great in the future, but you should be patient."
A dominant NBA player in the 1970s and '80s, Gervin is one of just three players in history to win four or more NBA scoring titles. Wilt Chamberlain and Michael Jordan, who Chinese fans called the "God" are the others.
The 55-year-old from Detroit was the Spurs' all-time leader in points, field goals, free throws and steals and ranks second on the franchise's all-time list in rebounds, assists and blocked shots.