Chinese fans have rallied around their hero Yao Ming's costly decision to skip pre-season training sessions because of his commitment to the Special Olympics in Shanghai.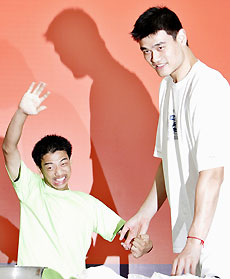 Chinese NBA star Yao Ming (R) shakes hands with 18 year old basketball player Wu Fengmiao (L), who will compete in the 2007 Shanghai Special Olympics, at a promotional event in Shanghai July 4, 2007. [Reuters]
The hoop treasure will be fined $27,500 for his absence by his NBA club the Houston Rockets but fans say Yao's move just wins him more respect.
"The fine is OK given the reason for his late arrival," said Jiang Fan, a Yao fan who writing on hoopchina.com.
"I admire him because he has a great sense of responsibility for social work, so I think he is absolutely right this time."
The All-star center is a keen supporter of the Special Olympics and is playing a key role in the build-up on behalf of Para-Olympic athletes.
China's star player is expected to miss the Rockets' October 1 media day and the first two days of team practice before appearing jet-lagged for the third practice on October 4.
"Everybody knows he is the most hard-working man in national team and also the Rockets," a 26-year-old hoop fan Liu Yilin posted a message on Sina.com.
"He always tries to do something for his hometown Shanghai and tried to raise the awareness of Special Olympics.
"I fully understand the regulation in NBA, but I think Yao is definitely right to make this decision."
After working with former Rockets center Hakeem Olajuwon in Houston following a Play-off defeat, Yao spent most of the summer nursing a shoulder injury and planning his wedding with Ye Li, now his wife of two months.
He returned to the national team in late August to lead the team to two victories.
Yao said he was sorry for breaking the rules.
"I expect to be back with the team around October 3," Yao told a press conference.
"I am very sorry that I will not be able to attend the start of training because of work related to the event in Shanghai."
But Yao is anticipating no problem with new coach Rick Adelman.
He said the two had already had talks and he was expecting Adelman to bring changes to the Rockets' style of play.