Some of the NBA's biggest stars will play a charity match in Beijing in two weeks time to raise money for children's education in some of the country's poorest regions.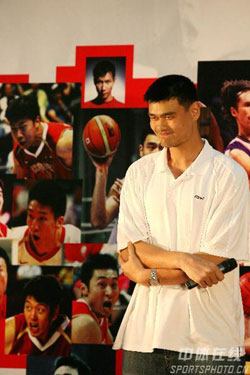 Huston Rockets' star center Yao Ming of China picks questions from the press at a conference to announce a charity game organized by Yao and Phoenix Suns' superstar Steve Nash in Beijing August 30, 2007. [sportsphoto.cn] 
The charity match between the Chinese national team and the NBA invitational outfit will be played on September 14 at a venue yet to be decided after Houston Rockets center Yao Ming followed through on a suggestion by Phoenix Suns guard Steve Nash.
"When I played a match with Nash's team, he asked me whether I wanted to do some charity activities," Yao explained.
"Especially for the education of poor children and I thought it was a good idea."
As well as the backbone of the Chinese national team, the match will feature two-time MVP Nash, Denver Nugget Carmelo Anthony, Golden State Warrior Baron Davis, 2007 NBA No 1 draft Greg Oden, Phoenix Suns player Leandro Barbosa and Yao teammates Bonzi Wells, Chuck Hayes and Mike James.
Although only just returning to training from injury, Yao said he would try to recover as much as possible before the match.
He is even considering playing for both teams alternately in the first and second halves.
"We are not playing to win, so it will be something different from a formal match," he said.
The Yao-Nash Gala will also include a charity auction banquet the day before.
All funds raised at the dinner and by the match will be presented to the China Youth Development Foundation, which started Project Hope in 1989.
Project Hope was founded to help impoverished school children in rural communities complete primary school.
The money will go towards setting up Project Hope primary schools for poor children in western China, help Uygur girls attend school in the Kizilsu Kirghiz Prefecture of Xinjiang Uygur Autonomous Region, upgrade teaching facilities of schools for mentally disabled children in western China and promote the Special Olympics.
"The money will be used in a transparent way and it will let all people know where the money goes," Yao said. "I can promise that all the money will be used for poor children to get better education."
It is not the first time Yao, China's biggest sporting hero, has been instrumental in philanthropic schemes.
Previously, he has helped the family of two young brothers from Ningxia Hui Autonomous Region send them to school, among other charitable acts.
Chinese sports officials have praised Yao's generosity. "Helping each other is always a virtue for the Chinese people and Yao just energized their charity with sports," director of the Chinese Basketball Administrative Center Li Yuanwei said.
"Yao is the hero of Chinese sports and he represents youthful spirit. The match will be a good combination of charity and sports, which give people new ideas of China's athletes - they are not only sportsmen."