BEIJING - Newly married Chinese basketball star Yao Ming and his wife Ye Li are having no plan for the present to have babies.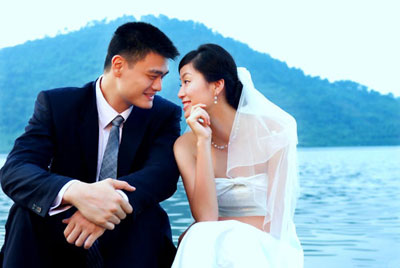 NBA star Yao Ming and his fiance Ye Li pose in their official wedding portrait in Hangzhou, China in this photo released August 6, 2007. Yao married Ye at a jealously guarded private ceremony at a luxury hotel in Shanghai on Monday. [Handout]
"We had no plan for the present," said Yao Ming, who appeared here Tuesday midnight to attend a Coca Cola Beijing Olympic Games counting down activity.
Just over 24 hours earlier, Yao and Ye, a former player in the Chinese women's basketball team, had their wedding in Shanghai.
"It's an once-in-lifetime opportunity to participate in an Olympic Games in your own country, so I will be concentrating on the preparation for the Games to be held next summer and my next NBA season," Yao added.
Recovering from a shoulder injury, Yao will report to the training camp of the Chinese national team in September.
"I hope we can make top six at the Games next summer," said Yao. "Or at least we can make some breakthrough."
China's best finish in Olympic basketball tournaments was eighth both in the Atlanta Games in 1996 and Athens Games in 2004.