The two-month stalemate between NBA franchise Milwaukee Bucks and its star draft pick Yi Jianlian from China finally came to an end after the latter agreed to wear a Bucks jersey next season.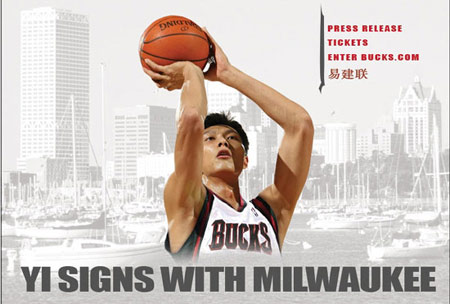 The announcement was made on Wednesday afternoon at a press conference held by the China Basketball Association (CBA) and Guangdong Tigers, Yi's CBA club, in Hong Kong. Yi was at the event, fresh from training camp in Europe with his national teammates.
Milwaukee Bucks owner Herb Kohl and general manager Larry Harris met Yi, Chen Haitao, Yi's club boss and China's basketball officials before Yi signed a three-year deal with Bucks.
But the details of the hard-won contract were not released according to NBA rules.
"We all anticipate Yi's arrival and welcome him and his family to Milwaukee," Kohl said. "We look forward to a successful relationship for many years to come."
The Bucks said that Yi would be in Milwaukee for the start of training camp on October 1, but it was unclear if he would be making a visit at an earlier date.
In a statement, NBA Commissioner David Stern said: "We are happy that Yi will be playing with the Bucks to further develop his skills and his contribution to both the Chinese national team and the NBA. This is another great example of cooperation between the CBA and the NBA."
Yi was ranked the sixth top draft pick when the Wisconsin-based club chose him at the annual NBA Draft in late June. But at first the Chinese NBA prospect was not interested in this franchise team, and his agent group wanted him to go to a city with a larger Asian population.
During the summer, he played for the Chinese national team, the NBA Summer League, Stankovic Cup and then a European tour. Bucks officials followed Yi all the way to watch him play believing they had the upper hand in this dispute.
"Yi isn't going back to China to waste a year he could be using in the NBA to prepare for the 2008 Beijing Olympics," the Milwaukee Journal Sentinel opined.