NBA superstar Shaquille O'Neal will give Yao Ming 24-inch car rims as a wedding gift when China's Houston Rockets star celebrates his third wedding ceremony later this year.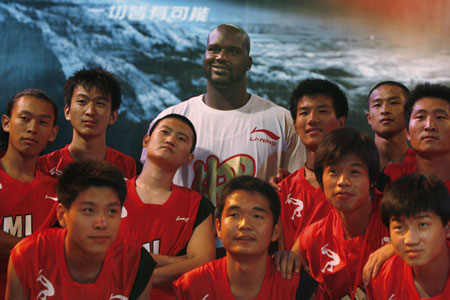 Shaquille O'Neal of the NBA's Miami Heat poses with young Chinese basketball players during a media event in Beijing August 14, 2007. O'Neal is on a promotional tour around China by the invitation of Li Ning, China's leading sportswear manufacturer.[Reuters] 
O'Neal, the Miami Heat's All-star center, is currently on a tour of China organized by his sponsor Li-Ning.
"I've heard the news that Yao has married a beautiful basketball player," the famous 34-year-old giant said.
"If you let me choose a wedding gift for him, I would give Yao four 24-inch customized rims at his wedding ceremony."
A number of NBA stars are crazy about custom cars - and big, shiny rims top their wish lists. But Yao is not so enamored of the four-wheeled sport, preferring to drive a BMW 7-series rather than more extravagant rides like Ferrari roadsters or SUVs. In fact, the only customized feature of Yao's car is a "Y&Y" logo - for Yao and his wife Ye Li - on the rear.
The 27-year-old Yao, a 2.26-meter center for the Texan NBA franchise, married his girlfriend of eight years last week.
The couple held two ceremonies, one in Yao's hometown of Shanghai and another in Beijing where China's national team is based.
The wedding of Yao and Ye, a former Chinese National Team player and current University of Houston student, attracted huge media attention in China.
Some reports have claimed the center will celebrate another wedding in Houston in autumn, where O'Neal believes he will be among the guests.
"I am sure he has sent the invitation to me," he said.
"I haven't checked my mailbox recently because I travel a lot, but I am sure he did."
Having witnessed Yao's NBA evolution in the past five years, O'Neal has changed his tune on the Chinese player after questioning Yao's ability during his rookie year.
"Obviously Yao has grown into one of the best centers in the league," O'Neal said.
"He is awful (to play against) on both ends. I have to be well prepared before the games against the Rockets.
"The other kid (Yi Jianlian) is also impressive, I know he can shoot, dunk and spin. I am sure he will make his place in the league.
"I am happy to see more and more Chinese players coming up - it is very good for the league as a whole."
O'Neal is widely regarded as the NBA's most dominant centre after winning four NBA championships, three with the Los Angeles Lakers between 2000 and 2002 and one with the Heat last year.
He signed a sponsorship deal with China sportswear manufacturing giant Li-Ning last year and has worn its shoes ever since.
Since moving to Miami in 2004, the center has averaged 22.9 points and 10.4 rebounds.
O'Neal's image, name, shirt number and autograph adorn Li-Ning's basketball products, which are sold in Hong Kong, Macao, Taiwan and the Chinese mainland.
Founded by Olympic gymnastics champion Li Ning, the company is arguably the most dynamic Chinese brand to sponsor foreign sports stars.
O'Neal is the second NBA player to sign with Li-Ning following Cleveland Cavaliers' guard Damon Jones.