Paralyzed gymnast Wang Yan can now stand up and get around using crutches, recovering well beyond doctors' expectations since she broke her neck in an accident on the uneven bars at the national championship in early June.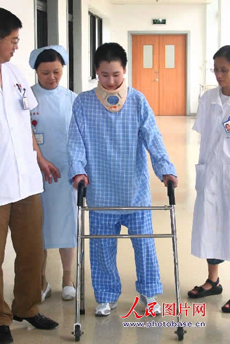 "Wang Yan is getting herself around since rehabilitation training just started a week before, said Wu Xiqin, chief coach with the Zhejiang Provincial gymnastics team.
The teenager fell into a coma at the national gymnastics championships in Shanghai June 10 after landing head-first on the mat in her dismount from the uneven bars, fracturing her second and third vertebrae.
Sources said after the accident that the young gymnast would likely be paralyzed for life, but after surgery and treatment, her condition improved considerably.
According to Dr Tan Shensheng with Shanghai No. 6 hospital, the rehabilitation program for the 15-year-old started last week, adding typing and writing training to regain mobility in her hands.
With the rehabilitation treatment, Wang has gradually gained her muscular sense as well as her smiles.
"Without any help, I am able to get up, wash my face, eat my meals, send text messages to my friends and play computer games when I'm bored," the injured teenager laughs. "I am optimistic I can stand up and I want to thank everyone for their concern."
So far, Wang hasn't had any side effects since she moved out of the intensive care unit (ICU).
"Any problems during the next period of convalescence will be closely watched to help the gymnast fully stand up," Xu added.