Beijing Olympic planners make marathon effort
By Lei Lei (China Daily)
Updated: 2006-08-08 05:56
Great progress has been made in organizing the competitions. The schedule, organized by day and by session, has already been approved by the IOC. The competition managers for all 28 sports have been appointed and these appointments have been confirmed by individual international federations and the International Olympic Committee. Training for domestic technical officials has also started.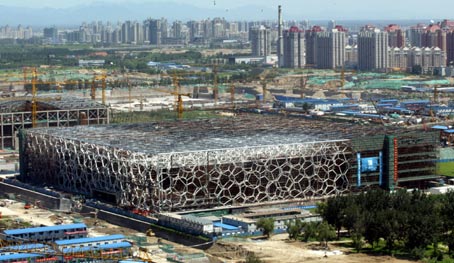 The National Aquatics Centre, also known as the "Water Cube," is under construction. [China Daily]


Now that detailed competition schedules are being drawn up, the preparation is entering a key stage.

"The preparation before was just general work as we were at the planning stage. But from this year, we'll have to work on athletes and competitions," said Liu. "As for the venues, we have to deal with many new concepts, such as security and media services. This is a new field for us so this year is a turning point for the preparation."

'Remarkable ceremonies'

One of the keys to staging a successful Olympic Games is widely believed to be hosting remarkable opening and closing ceremonies. Deciding the final plan for the ceremonies is one of the most important tasks of this year.

As the leading official of the organizing committee, Liu predicted it will be an "unexpected opening ceremony with remarkable highlights."

"The opening ceremony of the Beijing Games will be shown to an audience of 1.3 billion in China, as well as 4 billion foreign TV viewers. Ensuring it will satisfy all of them is a big task," said Liu. "It should not be a cultural clich, but at the same time, it must be a lively reflection of Chinese culture.

"So, we have to create something that has never been heard or seen by people something 'unexpected'."

To stage such remarkable opening and closing ceremonies, the BOCOG has appointed internationally acclaimed Chinese filmmaker Zhang Yimou as chief director of the creative teams.