The "Bird's nest" and the "Water Cube" are taking shape in the northern part of Beijing, the mascots and the theme slogan have been unveiled to the world, the teams for the opening and closing ceremonies have been appointed.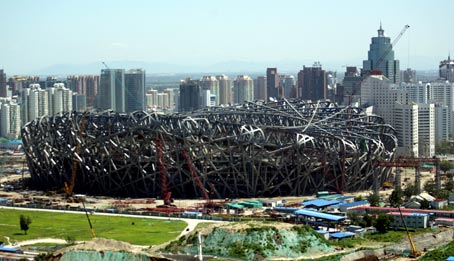 The National Stadium, also known as the "Bird's nest," is under construction. [China Daily]


As the 2008 Beijing Olympic Games countdown reaches the two-year mark today, China's capital city is showing to the world it is gearng up to its best ability to ensure a successful Games.

"In the past five years, preparations for the 2008 Olympic Games have gone smoothly, thanks to the support of people from all over the country," said Liu Qi, president of the Beijing Organizing Committee for the Games of the XXIX Olympiad (BOCOG), in a recent interview with Chinese journalists.

"We have achieved our target for the period and laid solid foundations for a high level Olympic Games with distinguished features."

Construction of the Olympic venues is in full swing, with the structures of all 12 of the new Beijing-based venues expected to be completed by the end of this year.

Work renovating nine existing venues and five temporary sites is also in progress.

"Venue construction is well under way; the blueprints are turning into reality," Liu said. "According to the schedule, all the venues will be completed by the end of next year."

Launched on September 1, 2003, the Beijing 2008 Marketing Plan now boasts 11 partners, nine sponsors and six suppliers.

On June 5, the Paralympic Marketing Plan was also launched.

As promised in the bidding report, the profits from the Games will be used for public welfare causes.

"Although the marketing plan is running well, we will not host a luxurious Games in 2008," Liu said. "As stated in the bidding report, we will use profits from the Games to set up funds to help develop sports among ordinary people. The rest will be used for public welfare."