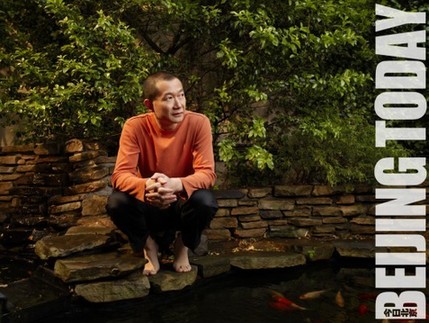 Tan Dun,the Condunctor of Lucerne Festival
Time: 2009/9/20-2009/9/25 Venue: NCPA-Concert Hall Price: 100/180/280/380/480/580/680/980/1280/1580
Presenter: Lucerne Festival Orchestra, Mahler Chamber Orchestra Conductor: Claudio Abbado, Tan Dun Piano Solo: Yuja Wang Soprano: Rachel Harnisch
Programme Introduction The Top Festival Debut in China Return of Conductor Claudio Abbado after 36 years With authentic music from Lucerne Festival
NCPA will see the premiere of world-renowned Lucerne Festival in China on September 20-25, 2009. Conductor Claudio Abbado, "King of Conduction", the original orchestra of the Festival and other musical masters will stage four symphonic concerts (conducted by Maestro Abbado) and two chamber concerts. In addition, two masters of Chinese descent will definitely highlight the Lucerne Festival in Beijing.
They are: Yujia Wang the Goddess of Piano, who won her fame at the age of 22 and will be on stage with Abbado on September 20; and Tan Dun, a famous musician who will present brilliant performances as the conductor with Mahler Chamber Orchestra on September 23. It is safe to predict that the Lucerne Festival 2009 will be a great musical event of both China and the world.
Lucerne Festival
With deep-rooted art and music culture, the City of Lucerne is a renowned Festival City and famous for its Lucerne Music Festival, which attracts over 100,000 music lovers across the globe throughout the three seasons annually. Lucerne Festival looks back on a long tradition of own orchestras that began in 1938 with Arturo Toscanini and the legendary Concert de Gala. Nowadays, Lucerne Festival has already become one of the most important music festivals, both in Switzerland and internationally. The Festival presents itself with three themes every year: at Easter, in Summer and at the Piano. Over its 71 years history, Lucerne Festival rarely presented out of Lucerne. Few exceptions were Tokyo in 2006, New York in 2007 and Vienna in 2008. Thank for the joint efforts of NCPA and Kajamoto Music, this world-renowned festival is coming to China in this September and will hold a series of orchestra concerts and chamber music concerts in National Centre for the Performing Arts in Beijing, the top sanctuary of music in China. According to Michael Haefliger, the administrative and artistic director of Lucerne Festival, it becomes a trend in recent years to stage the Festival in other countries and cities out of Swiss, and Beijing, an oriental metropolis with great history and glamour is another choice in Asia following Tokyo. Chen Zuohuang, the musical and artistic director of NCPA expresses that "Before Lucerne, there was not such a festival in large scale and high quality introduced to China. Music lovers in China are lucky enough to enjoy the best music of the world at home, especially in the international financial crisis."
Conductor: Claudio Abbdo
Claudio Abbado was born into a family of musicians in Milan. He studied piano, conducting, and composition at the Milan Conservatory and then moved to Vienna, where he studied under Hans Swarowsky at the Vienna Music Academy. He won the Koussevitzky Prize in Tanglewood in 1958 and received the first prize at the Mitropoulos Competition in New York in 1963, which earned him the position of assistant to Leonard Bernstein. Herbert von Karajan invited Abbado to the Salzburg Festival in 1965, where he conducted the Vienna Philharmonic. In the following year, he made his debut with the Berlin Philharmonic. From 1968 to 1986, Abbado was musical director of La Scala, Milan, where he established his reputation as an innovator keen to promote contemporary music and "Regietheater" (director's theater). He is also widely acclaimed for having opened the venue to a more-diverse audience. During his time at La Scala, Abbado's international career also flourished. He was chief conductor of the London Symphony Orchestra from 1979 to 1988, directed the Vienna State Opera from 1986 to 1991, and was appointed director of the Berlin Philharmonic in 1989. Abbado took over the leadership of the Salzburg Easter Festival in 1994. After leaving Berlin in 2002, he formed the Lucerne Festival Orchestra, which has played yearly since 2003. Encouraging young musical talent is a cause close to Abbado's heart. In 1978, he was one of the founders of the European Community Youth Orchestra and later helped to set up the Chamber Orchestra of Europe. In 1986, he launched the Gustav Mahler Youth Orchestra and, in 2004, the Orchestra Mozart. Abbado has received countless awards, including the Siemens-Musikpreis in 1994 and the Praemium Imperiale in 2003.
Conductor: Tan Dun Tan is a famous composer known for his unusual artistic means, Orchestral Theatre Series and large amount of pieces in his works. He has won numerous honors including the top award of Bartók International Competition in 1987, World Excellent Composer, New Zealand in 1988, the top award of Yirino Yoshiro Composition Contest in 1990, BBC's Best Orchestral Album and the Best Classical Album by Japan Institute of Literature and Art in 2004, and the Best Original Score of the 73rd Academy Award in 2006. He has worked as a judge for the Munich International Opera Contest, Holland International Composition Contest, Taiwan International Composition Contest for Chinese Descent, and Rockefeller Composition Contest. His main works include: string quartet Feng?Ya?Song, multimedia Map, multimedia opera The Gate, Symphony 1997: Heaven Earth Mankind, and opera Tea, the Heart's Mirror and The First Emperor.
Piano Solo: Yuja Wang Graduated from the Curtis Institute of Music in Philadelphia, the twenty-two year old Chinese pianist Yuja Wang is widely recognized for playing that combines the spontaneity and fearless imagination of youth with the discipline and precision of a mature artist. Regularly lauded for her controlled, prodigious technique, Yuja's command of the piano has been described as "astounding" and "superhuman", and she has been praised for her authority over the most complex technical demands of the repertoire, the depth of her musical insight, as well as her fresh interpretations and graceful, charismatic stage presence. This past season The Washington Post called her Kennedy Center recital debut "jaw-dropping" and following her San Francisco recital debut The San Francisco Chronicle wrote "The arrival of Chinese-born pianist Yuja Wang on the musical scene is an exhilarating and unnerving development. To listen to her in action is to re-examine whatever assumptions you may have had about how well the piano can actually be played." In the few short years since her 2005 debut with the National Arts Center Orchestra led by Pinchas Zukerman, for which the Canadian press reported "a star is born," Yuja has already performed with many of the world's prestigious orchestras including the Baltimore Symphony, Boston Symphony, Chicago Symphony, Houston Symphony, New World Symphony, Philadelphia Orchestra, and the San Francisco Symphony, in the U.S., and abroad with the Tonhalle Orchestra, China Philharmonic, Nagoya Philharmonic and the NHK Symphony in Tokyo. In 2006 Yuja made her New York Philharmonic debut at the Bravo! Vail Music Festival and performed with the orchestra the following season under Lorin Maazel during the Philharmonic's Japan/Korea visit. Besides the States, Yuja will make her debut with the London Symphony Orchestra led by Michael Tilson-Thomas and the Lucerne Festival Orchestra led by Claudio Abbado.
Lucerne Festival Orchestra When Claudio Abbado and Michael Haefliger founded the Lucerne Festival Orchestra, which has opened the summer season every year since 2003, they were, in a way, harking back to the birth of the Lucerne Festival in 1938. At that time, Arturo Toscanini first brought together an elite orchestra to play the legendary "Concert de Gala." With this model in mind, in 2009, renowned soloists will once again converge under the leadership of Claudio Abbado to work on and perform selected pieces from the symphonic repertoire. Performing as principals will be such musicians as violinists Kolja Blacher and Sebastian Breuninger; violists Wolfram Christ and Diemut Poppen; cellists Natalia Gutman, Jens Peter Maintz, and Clemens Hagen; and double bass player Alois Posch. Wind soloists will include flautist Jacques Zoon, clarinetist Joerg Widmann, horn player Bruno Schneider, and trumpeter Reinhold Friedrich. The core of the orchestra is drawn from the fifty members of the Mahler Chamber Orchestra. In addition to the Lucerne Festival Orchestra's two large orchestral programs, the musicians will hold a number of chamber concerts. The Lucerne Festival Orchestra performed in Rome in the autumn of 2005, in Tokyo in October 2006, in New York's Carnegie Hall in 2007, and at the Vienna Musikverein in 2008. The next destination is Beijing: Claudio Abbado and his musicians have accepted an invitation to China for September 2009.
Mahler Chamber Orchestra The Mahler Chamber Orchestra (MCO) was founded in 1997 by former members of the Gustav Mahler Youth Orchestra and is dedicated to repertoire that ranges from works for larger ensemble through the symphonic literature to classical opera and world premieres. A total of 42 musicians from 22 nations form the core of this independently financed orchestra, which can also be augmented with additional forces as needed. Along with cofounder Claudio Abbado, Daniel Harding has had a lasting influence on the orchestra's evolution, first as its principal guest conductor and then, as of 2003, as principal music director. Since 2008 he has been chief conductor. The orchestra had its breakthrough to international acclaim as early as 1998 with a new production of Don Giovanni at the Aix-en-Provence Festival, conducted by Claudio Abbado. Eminent productions that ensued have included Britten's The Turn of the Screw (production by Luc Bondy) and of Tchaikovsky's Eugene Onegin (in the Irina Brook production), under the baton of Daniel Harding. Patrice Chéreau directed Mozart's Così fan tutte (2005) and Janá?ek's From the House of the Dead (2007) in productions that also appeared in Vienna and Amsterdam. The Mahler Chamber Orchestra gives two annual concert series in Ferrara, Italy. Since 2003 the musicians of the MCO have performed as guest artists with the Lucerne Festival Orchestra, in addition to their own appearances as the MCO. Throughout its artistic development, the MCO has attracted renowned guest conductors and soloists, including Vladimir Ashkenazy, Philippe Herreweghe, Christopher Hogwood, and Paavo Jarvi as well as Martha Argerich, Emanuel Ax, Cecilia Bartoli, and Christian Tetzlaff. Lucerne Festival debut: August 16, 2003 in works by Haydn, Kelterborn, and Schumann, with Daniel Harding conducting.