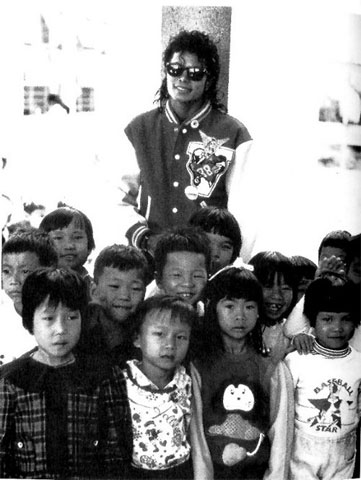 Michael Jackson's photoshoots with children during his one-day China trip in Zhongshan of Guangdong, Oct. 23, 1987. [3] Michael Jackson and his tour guide Liu Guangzhi
Related readings:


 Jackson's mother wins temporary control of estate


 Editors scramble to get covers on Michael Jackson


 Refund details for Jackson concerts still sketchy


 Joe Jackson suspects Michael 'foul play'
As Michael Jackson's Chinese fans moan that they will never get to see the King of Pop come to their own homeland, it's a little-known fact that the pop icon actually dropped by a Guangdong tourist attraction once during his vacation in Hong Kong in 1987, according to a report from Guangdong-based Zhongshan Daily on Monday.
Liu Guangzhi, Jackson's guide at the time, couldn't hold back his excitement when speaking of the megastar's one-day visit for a guided tour of his hometown.
"I didn't know whom I was going to pick up until they gave me the tourist name list. Michael Jackson's name was right there, the first on the list," Liu, then 23, recalled.
"To most of his fans here, it's a pity he never visited the Chinese mainland, but little do they know, he was here once 22 years ago," Liu added.
Jackson was a man of few words but very friendly, Liu said of his first impression of the pop icon. "We were not able to have an in-depth talk on any subject, but he mailed me our photo with his autograph on it through his agent later," Liu continued.
Children and the seniors who took photos with Jackson during his tour of their village also received pictures from him. Many of the villagers still keep the photos in store.
Jackson had two of these photos published on his autobiography, commenting under one snapshot, "I can't resist babies. In China,1987."
Liu is grateful to Jackson for the pictures. He said, "it's a cherished memory for us all, and Michael helped us to keep it."
"Though he's not with us anymore, I still remember his kindness. He's the unparalleled King of Pop, and I'll keep the memory of him in my heart forever."