Overview
Updated : 2016-03-04
( bdainvest.org )
Constructed in 1992, the Beijing Economic Technological Development Area was approved by the State Council as the only national economic technological development area in Beijing on August 25, 1994.
The development area has adhered to intensive, clustered, innovative and environmentally-friendly development since then. A total of 119 investment projects have been launched by 83 Global Top 500 enterprises in the development area, including Mercedes-Benz, Corning, GE and Bayer.
"Beijing-ETown" has become a high-end brand with international influence.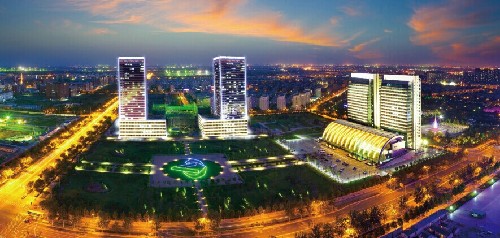 Over a decade of a glorious course, BDA has transformed from a large plot of farming land into an industrial base of high and new technologies and modern manufacture. And it is marching in great strides toward its goal of becoming a high-end industrial zone oriented to the global market.
Fortune Top-500 enterprises and world renowned multi-national corporations have flocked here. Though with different languages, cultural backgrounds and skin colors, these corporate bosses intermingle, harvest and compare their notes here. Currently BDA has preliminarily formed four pillar industries i.e. of information & communication technology, bio-engineering & new medicine, automobiles and equipment manufacturing. 
Nearly 4,000 enterprises from over 30 countries and regions all over the world are attracted to settle here. The total investment amount of all the dwelling enterprises exceeds $ 40 billion. A large number of globally renowned enterprises, such as Benz Daimler Chrysler, Nokia, GE, Bosch, Corning, Danieli, Kimberly-Clark, LG, Cummins, Bayer, ABB, Panasonic, Schneider, Delphi, Aventis, SMIC and BOE, etc., have come to invest and construct plants in BDA. The entrepreneurs from all over the world have worked, lived, toiled and harvested on this plot of fertile land. This booklet is both a kaleidoscopic collection of their candid evaluations of BDA and an eyewitness account of phenomenal corporate growth.