Beijing Daxing airport boosts aviation
Updated : 2018-09-19
( China Daily )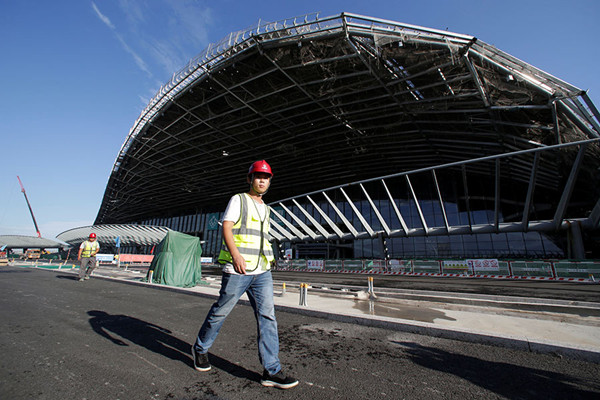 The construction site of Beijing Daxing International Airport on Aug 30. [Photo/Agencies]
Beijing Daxing International Airport, the capital's new airport, is expected to boost the growth of China's civil aviation sector after it becomes operational in September next year.
The new airport, located in the city's southern Daxing district, is designed to alleviate the strain on Beijing Capital International Airport in the northeast.
Last year, Beijing Capital International Airport ranked second globally for throughput, following Hartsfield-Jackson Atlanta International Airport. The capital's airport saw 95.79 million passengers pass through its terminals in 2017, according to Shanghai-based Civil Aviation Data Analysis.
"The two airports will together serve as two international hubs in Beijing, complementing each other and forming a more competitive international pattern. The new airport will help to provide better support for the development of the Beijing-Tianjin-Hebei cluster," said Zhao Qing, deputy director of the planning and design institute of China Airport Construction Group Corp.
State-owned China Southern Airlines Co Ltd and China Eastern Airlines Corp Ltd, together with other members of SkyTeam Airline Alliance, will move to the new airport. The two will each take on 40 percent of the airport's passenger capacity.
Air China Ltd, as well as other members of Star Alliance, will stay at Beijing Capital International Airport. The carrier is expected to consolidate its dominant status at the airport, building on its leading share of flights at Terminal 3, Zhao said.
Liu Xuesong, general manager of Capital Airports Holding Co - the operator of Beijing Capital International Airport - said earlier that dividing airlines by their affiliations will be more convenient for passengers when transferring flights.
Construction of the new airport facility started in December 2014, and it is set to become the largest single building of its kind in the world when completed by June next year. Investment in the project totaled 80 billion yuan ($11.64 billion).
The new airport is 46 kilometers from Tian'anmen Square, 67 km from Beijing Capital International Airport and 55 km from Xiongan New Area, a national-level economic zone neighboring Beijing in Hebei province.
"A disadvantage of the new airport is that it is far from the downtown area, and there are still some uncertainties surrounding traffic connections. Geographical location is a critical factor in the civil aviation sector," said Yu Zhanfu, a partner at Roland Berger Strategy Consultants.
When Shanghai Pudong International Airport - located far from downtown Shanghai - began operating, China Eastern Airlines had to lower the ticket price for its Beijing-Shanghai routes by 20 percent to attract customers at first. Beijing's new airport could face a similar situation, Yu said, as cited by 21st Century Business Herald.
The new airport is expected to handle more than 100 million passengers a year, with 880,000 takeoffs and landings annually, exceeding Atlanta's airport, China Airport Construction Group said.
In the past seven years, the total throughput of airports nationwide saw a compound annual growth rate of 10.6 percent, higher than the global average level of 8.2 percent, according to the Civil Aviation Administration of China.
"With ever-growing travel demand, major airports nationwide have been limited in terms of resources such as runways, terminal areas and flying rights," said Shao Fengru, deputy director of the transportation department at China Academy of Civil Aviation Science and Technology.
"The pressure from the supply side is becoming more notable. The structure of the civil aviation market still needs to upgrade, and airport hubs need to further strengthen their competitiveness," she said.