The low-carbon economy has served as the engine for growth of the Huangjinshan New Industrial District, administered by the Huangshi Economic and Technical Development Zone, in the past years and will grow even stronger in the future, a senior official said.
"We will never pursue economic interests at the cost of environmental degradation in developing the Huangjinshan New Industrial District," said Hu Chao, a member of the Huangshi CPC Standing Committee, and director of the Huangshi Economic and Technical Development Zone administration.
"We have declined a project with environmental hazard though it will bring us an investment of more than 2 billion yuan."
Hu said the original landscape, including hills, woods and lakes in the district, has been preserved to the largest extent possible. All enterprises that want to enter the new industrial district must meet strict environmental standards.
In addition, businesses in the district are required to be energy-efficient, using sustainable and renewable energies, and recycling emissions wherever possible.
As a result, a large group of low-carbon enterprises have emerged in the new industrial district.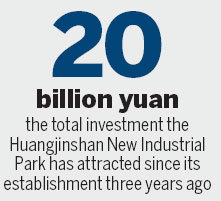 For instance, the Huangjinshan Wastewater Treatment Plant, with an investment of 150 million yuan, has realized "zero-pollution" discharge of industrial and residential wastewater.
The Huangjinshan Garbage Power Plant, with an investment of 470 million yuan, is expected to be built by this year. Upon completion, the plant will be able to treat 1,200 tons of garbage daily, generating electricity of 160 million kilowatt-hours annually.
"It is our responsibility to protect the environment and reduce energy consumption. Only in this way can we really develop the zone into a new city center with developed industry and beautiful environment," Hu said.
Since the establishment of the new industrial district three years ago, more than 50 projects have been introduced with a combined investment of 20 billion yuan, including the Dongbei Industrial Park, Zhangfan Spring Holiday Resort, and Mailyard Industrial Park.
Environment
Huangshi is a picturesque city, with green mountains, rivers and lakes. With total river length of 1,732 km and 258 lakes, Huangshi has received the honor of "National Garden City."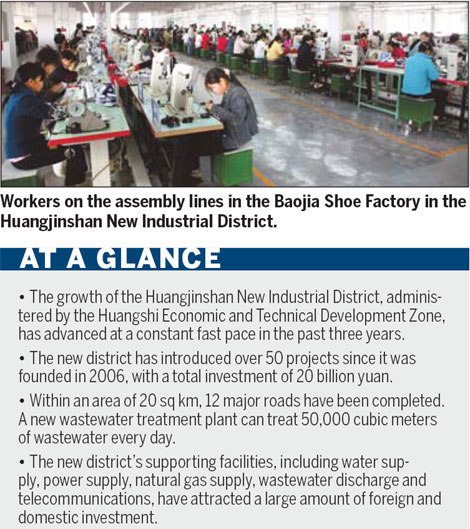 (China Daily 05/25/2010 page24)