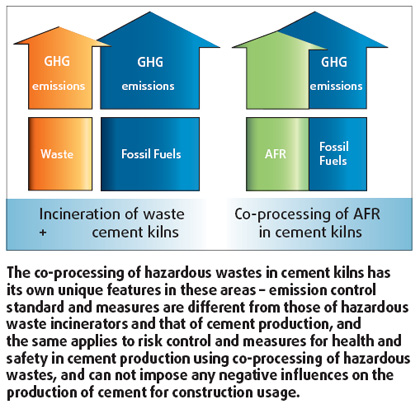 Co-processing of hazardous wastes in cement kilns has been practiced for more than 30 years and is acknowledged to be highly feasible for sound treatment of hazardous waste. This process has developed substantially over the last 20 years and is now globally recognized as one of the preferred methods of disposing of a wide range of problematic materials.
As part of the process, two procedures are carried out simultaneously in the cement kiln - cement manufacturing and waste disposal. Although performed jointly, neither the quality of cement produced nor the environmental impact is compromised.
Compared to constructing specialized incinerators alone, co-processing in cement kilns has the potential of saving on investment, incurring low operational costs and offering a completely harmless means of disposal, as well as several other unique advantages. Specifically speaking, the characteristics of the cement production process allow the use of a wide range of waste materials as both fuel and raw materials. Many environmental benefits are thus obtained, including an energy yield approaching 100 percent -maximizing the recovery of energy from waste. The high temperatures (about 1800) of the cement kilns with a high residual time (above 5 seconds) - represent ideal conditions for the virtually complete destruction of all organic material used as fuel. Inherent cleaning of gases using lime (a basic ingredient of cement) occurs while the temperature in incinerators is about 1200 at a low residual time (about 2 seconds). Cement kilns also have a strong thermal stability. Due to the large capacity of cement kilns, a wide range of hazardous wastes can be dealt with. This results in no waste residue (total incorporation of ash into finished product) but a high level of environmental performance and a global reduction of CO2 emissions.
Overall, the cement kiln co-processing of hazardous wastes provides high temperatures, long residence time, surplus oxygen, good mixing and an alkaline environment, as well as the efficient recovery of all energy and raw material substitutes in the hazardous waste.
(China Daily 12/24/2009 page12)