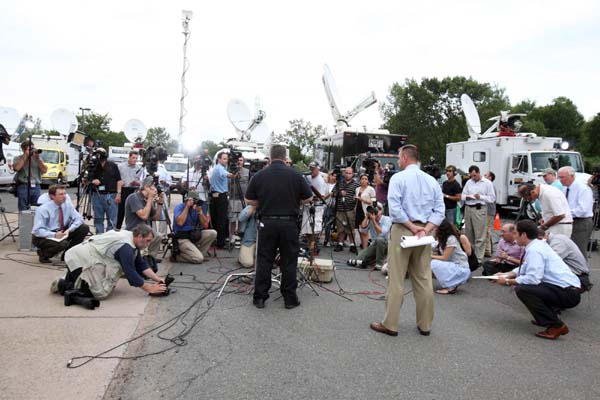 Manchester police chief Marc Montminy briefs the press after an employee of a beer distributor opened fire on his co-workers in Manchester, Connecticut August 3, 2010. [Agencies] 
And in Connecticut, a state lottery worker gunned down four supervisors in 1998 before committing suicide, and six people were killed in 1974 in botched robbery at a bakery in New Britain. Two men were convicted of that crime.
On Tuesday, a few dozen relatives and friends of the victims gathered a few miles away at Manchester High School. Outside, people talked, hugged and cried. Others talked on cell phones.
Related readings:


 6 dead, 4 wounded in US factory shooting


 3 dead in S California shooting


 5 dead after shooting in Miami-area restaurant


 UK taxi driver kills 12 in shooting rampage
Police officers from numerous agencies and police and fire vehicles surrounded the warehouse, on a tree-lined road in an industrial park just west of a shopping mall.
The Hollander family is widely respected in Manchester, said state Rep. Ryan Barry, a lifelong resident. He said the family-owned Hartford Distributors sponsors local sports teams and the family is civic-minded.
"Everybody knows the Hollanders as good, generous, upstanding people," Barry said. "They're embedded in the community. Everyone knows Hartford Distributors. They treat their employees very well and they're part of the fabric of the town."
In a statement, Connecticut Gov. M. Jodi Rell offered condolences to the victims' families and co-workers.
"We are all left asking the same questions: How could someone do this? Why did they do this?" she said.