MANCHESTER, Conn. – A warehouse driver who a union official said was caught on video stealing beer from the distributorship where he worked went on a shooting rampage there Tuesday, killing eight people and wounding two before committing suicide, authorities said.
Omar Thornton, 34, pulled a handgun after a meeting in which he had been offered the chance to quit or be fired, Manchester Police Chief Marc Montminy said.
The gunman, who was black, had complained of racial harassment and said he found a picture of a noose and a racial epithet written on a bathroom wall, the mother of his girlfriend said. Her daughter told her that Thornton's supervisors told him they would talk to his co-workers.
James Battaglio, a spokesman for the families who own the distributorship, said he had no immediate information about the allegations of racial harassment. And a union official said Thornton had not filed a complaint of racism with the union or any government agency.
Thornton had been caught on videotape stealing beer, Teamsters official Christopher Roos said.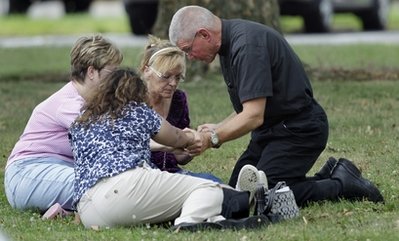 A priest kneels in prayer with three women outside Manchester High School, a gathering point for the families, co-workers and friends of shooting victims in Manchester, Conn., Tuesday, Aug. 3, 2010. [Agencies] 
"It's got nothing to do with race," Roos said. "This is a disgruntled employee who shot a bunch of people."
Thornton's girlfriend had been with him the night before the rampage and had no indication he was planning it, said her mother, Joanne Hannah.
On Tuesday morning, about 50 to 70 people were in the warehouse about 10 miles east of Hartford during a shift change when the gunman opened fire around 7 a.m., said Brett Hollander, whose family owns the distributorship. Adding to the chaos at the warehouse was a fire, which was put out. Montminy said he didn't know how the fire started, but didn't think it was set.
The shooting was over in a matter of minutes, Montminy said. The victims were found all over the complex, and authorities don't know if Thornton fired randomly or targeted specific co-workers, Montminy said.
After shooting his co-workers, Thornton called his mother, Hannah said.
Related readings:


 6 dead, 4 wounded in US factory shooting


 3 dead in S California shooting


 5 dead after shooting in Miami-area restaurant


 UK taxi driver kills 12 in shooting rampage
"He wanted to say goodbye and that he loved everybody," Hannah said.
Thornton was alive when police got to the scene but killed himself before officers got to him, Montminy said.
Hannah said her daughter Kristi had dated Thornton for the past eight years. Kristi Hannah did not return calls for comment.
"Everybody's got a breaking point," Joanne Hannah said.
Hannah described Thornton as an easygoing guy who liked to play sports and video games. She said he had a pistol permit and had planned to teach her daughter how to use a gun.
Hollander's cousin, who's a vice president at the company, was shot in the arm and the face. Hollander said he thought his cousin would be OK.
"There was a guy that was supposed to, was asked to resign, to come in to resign and chose not to and shot my cousin and my co-workers," Hollander said.
Among the dead was Bryan Cirigliano, 51, of Newington, president of Teamsters 1035, according to the union secretary. The Hartford Courant identified another victim as Victor James, 59, of Windsor.
The rampage was the nation's deadliest since 13 people were fatally shot at Fort Hood, Texas, last November. A military psychiatrist is charged with 13 counts of premeditated murder and 32 counts of attempted premeditated murder in that case.