LOS ANGELES - Chinese Olympian Sun Yue made his first National Basketball Association appearance for the Los Angeles Lakers on Sunday, scoring four points in the Lakers' 105-92 victory over Milwaukee.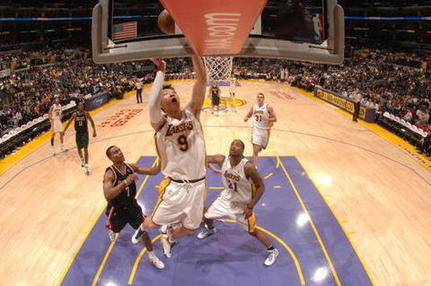 Los Angeles Lakers guard Sun Yue (9), of China, goes up for a lay-up during the fourth quarter of a basketball game against Milwaukee Bucks at the Staples Center in Los Angeles Sunday, Dec. 7, 2008. Sun made his NBA debut for the Lakers and got four points during the 5-minute time on court. [sina.com]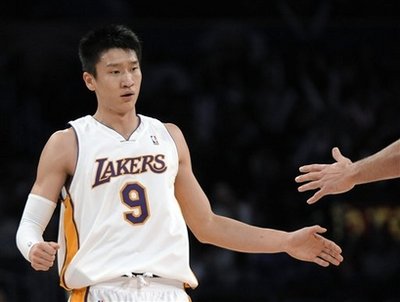 Los Angeles Lakers guard Sun Yue (9), of China, celebrates after scoring his first NBA points on a jumper against Milwaukee Bucks center Francisco Elson (9) during the fourth quarter of the basketball game at the Staples Center in Los Angeles Sunday, Dec. 7, 2008. [Agencies] 
NBA Most Valuable Player Kobe Bryant and all the other Lakers starters scored in double figures to deliver the victory.
Bryant led the way with 20 points and Derek Fisher chipped in 19 for the Lakers, who led from wire to wire for the second straight game.
Sun received a warm cheer from the Staples Center crowd when he took the court with 5:14 to play in the final period.
Sun, whose rookie NBA season has been hampered by glandular fever as well as a foot injury, had been activated by the Lakers for the first time only because Luke Walton was ill.
He learned only at the end of the pre-game shoot-around that he would be in uniform for the game.
Sun played 5:14 minutes and scored four points on 2-of-3 shooting with four fouls and two turnovers.
Sun admitted to some nerves as he took the court.
"Maybe the first 10 seconds," he said. "But when I got the first foul I calmed down.
"For me, that's my first game for a long time ... In last three minutes I think I found a rhythm."
Sun, a six-foot-eight inch (2.06 metre) guard, was originally selected by the Lakers in the second round of the 2007 NBA draft, but was not given a contract or an invitation to training camp last year.
The 23-year-old inked a two-year contract with the Lakers in August after averaging 6.8 points and 2.5 assists a game for the Chinese national team in the Beijing Olympics.