WASHINGTON - Jenny Lang Ping has chosen not to extend her contract as the head coach for the American women's national volleyball team for the upcoming Olympic quadrennial, USA Volleyball announced Tuesday on its website.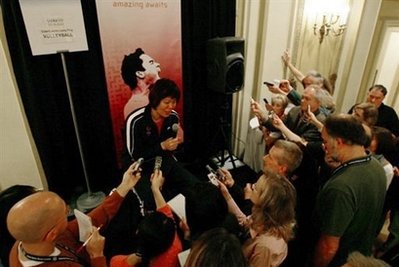 Jenny Lang Ping, a beloved Chinese hero seen here in April 2008 and who helped the 1984 women's volleyball team capture Olympic gold, will not return as coach of the US women's national squad. [Agencies] 
Lang cited the desire for a coaching position that offers more flexibility to spend time with her family as a major factor in her decision.
"At this moment in my life, family comes first and I wish more flexibility to spend time with them," Lang said on her decision to leave USA Volleyball. "I prefer a club volleyball season that lasts five months so that I can spend the other seven months of the year with them.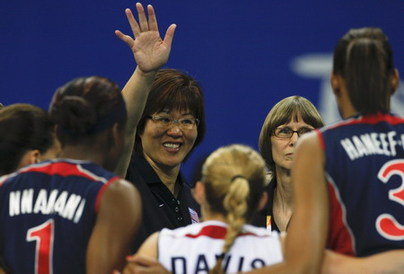 Head coach of the US volleyball team Jenny Lang Ping (C) waves to the members of her team after losing to Brazil in their women's final volleyball match at the Beijing 2008 Olympic Games, August 23, 2008. [Agencies] 
"I want to thank USA Volleyball for allowing me this opportunity to coach its national team for the past four years," Lang continued.
"It was a very challenging job with the many differences in system and culture compared to the Chinese system. Yet, I learned a lot and appreciate this rewarding experience. Although I was somewhat torn with my allegiance to China, it was very satisfying professionally to lead this team to the 2008 Olympic Games silver medal in my home country and also witness China earn the bronze medal."
"USA Volleyball is very fortunate to have had Jenny leading our program for the past four years, and we respect her decision to devote more of her life to family while remaining in the coaching profession," USA Volleyball chief executive officer Doug Beal said.
Related readings:


 Leaning on the Iron Hammer

 Lang Ping 'unlikely' to take China's volleyball helm


 Thanks, foreign coaches


 Making of a great coach

"She really performed magnificently under difficult situations throughout her tenure, none bigger than leading the team to the silver medal at the 2008 Olympic Games with the unprecedented distractions in her hometown of Beijing. Jenny was at her best in stabilizing a team shocked at learning of the murder of Todd Bachman, father of 2004 Olympic Games teammate Wiz Bachman, on the first day of competition of the Olympic Games. Not only was her technical coaching superb, but she was able to help manage all the raw emotions of the situation and still led the team to the podium."
Lang was able to guide a group of veteran athletes, eight of which who had previous Olympic Games experience along with four rookie Olympians, to their first Olympic Games podium finish after near-misses in 2000 (fourth place) and 2004 (fifth place).
"The National Team head coach is one of the most difficult jobs there is with all the scheduling, traveling, managing personalities and coaching so many different players attempting to make the Olympic Games roster as a life-long dream," two-time US Olympian and co-captain Lindsey Berg (Honolulu) said. "She did a great job managing all aspects of the team and helping us to reach our full potential at the Olympics with a silver medal. Above all else, she is a very warm-hearted person who cared about us as individuals, not just as players. I wish her the best in her future endeavors."
During her four-year tenure, Lang  compiled a 90-49 record and led the American team to its first Olympic Games medal since 1992 with the aforementioned silver in Beijing.
The silver medal for the United States from Beijing Games matched its previous best finish from the 1984 Olympic Games, its only other Olympic Games reaching the gold-medal match.
Lang's incredible popularity among the Chinese fans was evident during the Olympics. Starting with her arrival at Beijing International Airport in which she was led out via an alternate route, she endured media scrutiny at every step of the way. Despite being under the microscope, her adoring fans cheered for her and the success of the United States team.
Turning 48 next month, Lang was adored by millions of Chinese fans both as a player and a coach.
As a player, the star outside hitter anchored in China's major breakthrough in the volleyball world in the eighties last century as she led the team to the 1984 Olympic gold medal, one world chmpionship and two world cup victories.
She started to coach the Chinese women's team in 1995 and led them to a silver medal in the 1996 Atlanta Olympcis before she took over the US team in 2005.
As a coach, Lang is a rarity in the international women's volleyball circles. She was the only female head coach among the top 20 countries listed in the FIVB World Ranking. According to FIVB files, Lang Ping and former Hungary women's team coach Gabriella Kotsis are the only female coaches to lead teams into multiple Olympics. Kotsis led Hungary during the golden era of Hungarian Volleyball, leading the country into three Olympic Games (1972, 1976, 1980).
"Jenny has been a winner at every stage of her volleyball career, first as a star with the Chinese National Team followed by a coaching career that so far has culminated in two Olympic Games silver medals for two different countries," Beal said. "We are so very lucky to have had her these past four years, not only for her qualities as a coach, but also for being such a great leader and role model for our program and athletes." According to Beal, USA Volleyball intends to act quickly in finding the new head coach for the program.