DUBAI, Nov 17  - Somali pirates have captured a fully laden Saudi supertanker far off east Africa, seizing the biggest vessel ever hijacked with a cargo of oil worth over $100 million in an attack that pushed world crude prices higher.
The US Fifth Fleet said the Sirius Star was being taken to the pirate haven of Eyl, in northern Somalia, on Monday.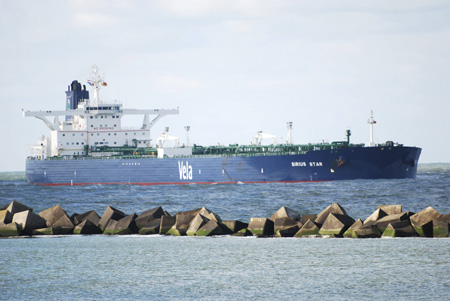 Saudi-owned crude oil supertanker "Sirius Star" is seen in this photograph taken in Rotterdam on October 17, 2008. Pirates who hijacked the Sirius Star off the east coast of Africa are taking the vessel towards a Somali port, the US Navy said on November 17, 2008.  [Agencies]
The hijacking of the Saudi Aramco-owned vessel on Sunday is certain to add to pressure for concerted international action to tackle the growing threat posed by pirates from anarchic Somalia to one of the world's busiest shipping routes.
"This is unprecedented. It's the largest ship that we've seen pirated," said Lt Nathan Christensen, a spokesman for the Fifth Fleet. "It's three times the size of an aircraft carrier."
The Sirius Star held as much as two million barrels of oil -- more than one quarter of Saudi Arabia's daily exports. The hijacking helped lift global oil prices over $1 to more than $58 a barrel, although they later lost some gains.
The hijacking on Sunday, 450 nautical miles (830 km) southeast of Mombasa, Kenya, was in an area far beyond the Gulf of Aden, where most of the attacks on shipping have taken place and where foreign navies have begun patrols.
Navy Adm Mike Mullen, chairman of the US Joint Chiefs of Staff, suggested military intervention would be complicated by hostages and ransom demands.
"I'm stunned by the range of it," said Mullen, telling reporters at the Pentagon that distance from the African coast was the longest he had seen to date.
"Once they get to a point where they can board, it becomes very difficult to get them off because, clearly, now they hold hostages."
The Sirius Star had been heading for the United States via the Cape of Good Hope at the southern tip of Africa, skirting the continent instead of heading through the Gulf of Aden and then the Suez Canal.
The ship, at 318,000 deadweight tons, was the largest ever captured by pirates.