Author:

Jackie Huang
1.Huizhou ancient town
The Huizhou Culture refers to a civilization that originated in southern Anhui and centered on the ancient Huizhou Prefecture. It combines the local ethos, the Confucian school of idealistic philosophy, and commercialism.
Strolling in the ancient town, you can experience the architecture with the typical characteristics of the Ming (1368-1644) and Qing (1644-1911) Dynasties. Huizhou merchants and the Huizhou-style architecture earns this town fame both at home and abroad.
Huizhou Merchants
Huizhou merchants refer to the businessmen living in the ancient Huizhou area. They influenced and reflected China's business and social life.
Huizhou merchants have a history of over 600 years, beginning in the Song Dynasty (960-1297), growing in the Yuan Dynasty (1271-1368), and flourishing in the Qing Dynasty (1644-1911) but declining later in the that period. In the Southern Dynasty (1127-1279), Huizhou ancient town became the hub of transportation and occupied a significant geographical area after the capital was shifted. With three mass migrations in Chinese history and limited farmland, the locals began focusing on commerce.
The wide range of products they handled included property, transportation, and the basic necessities such as  food and clothing,  salt, tea,  silk and so on.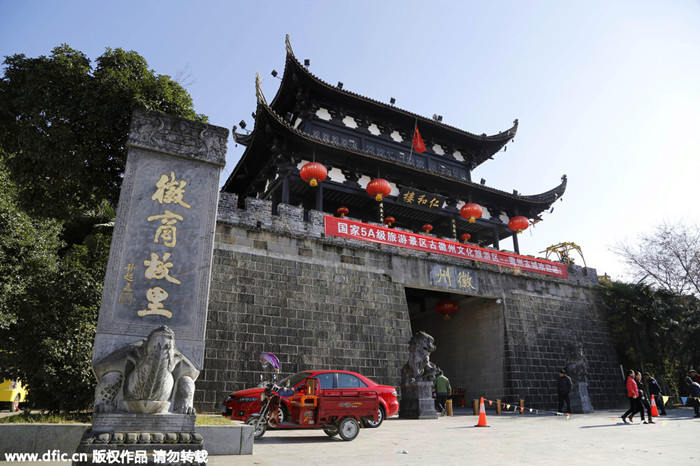 The main gate of Huizhou ancient town. The massive stone gate is topped with a two-storey pavilion. [Photo / Liu Zhuoqun]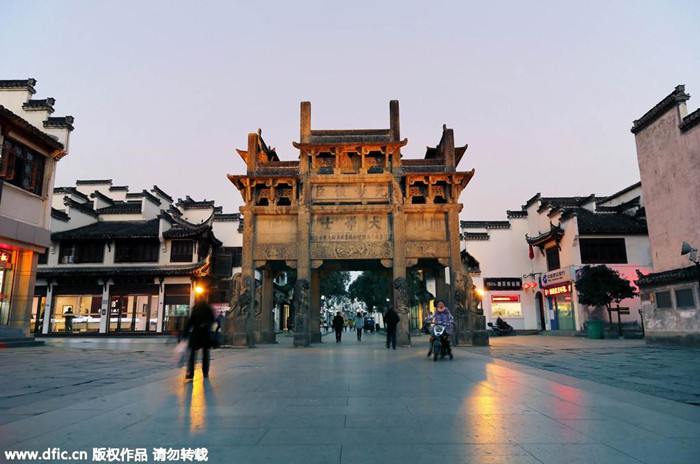 The photo shows the Xu Guo Stone Archway. This archway is the memorial gateway for Xu Guo (1527-1596) who was a grand secretary in the Ming Dynasty (1368-1644). [Photo / Liu Zhuoqun]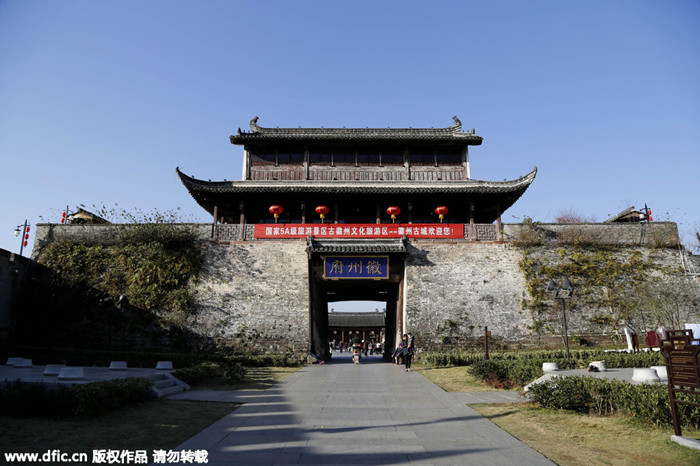 A banner, bearing the Chinese characters "huizhoufu" , meaning ancient Huizhou county, hangs on a stone gate. [Photo / Liu Zhuoqun]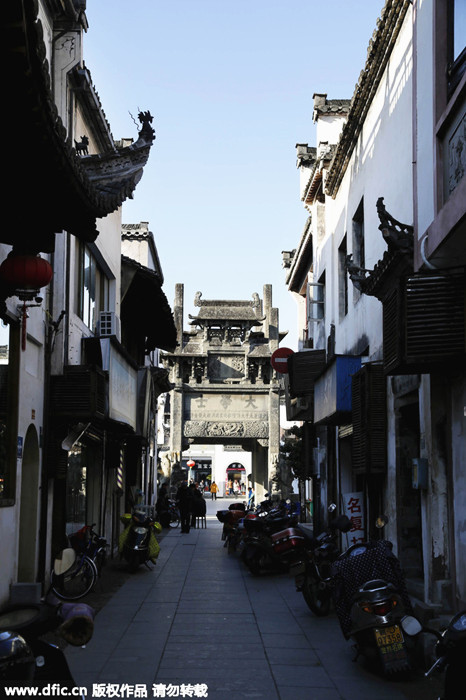 A street of Huizhou ancient town. [Photo / Liu Zhuoqun]