On Monday, Stern Hu, former executive of Rio Tinto mining group in Shanghai, and his three colleagues were convicted of taking bribes and stealing trade secrets. They were sentenced to imprisonment, ranging from seven to 14 years, fined 7.7 million yuan ($1.13 million), and their properties were confiscated. The Western media and a few Australian politicians have criticized the verdict. Some foreign media quoted Australian Minister for Foreign Affairs Stephen Smith as having said that the verdict was too harsh "by Australian standards".
Smith has to be reminded that Hu and his colleagues committed the crimes in China and were arrested here. So they had to be dealt with by China's courts according to China's laws. Judging the case according to Australian standards would have been a violation of China's sovereignty and an affront to its society.
Related readings:


 Australia urged to remark fairly on Rio trial


 Rio employees receive 'tough' jail sentences


 Move beyond Rio Tinto
Australia and other Western countries should stop seeing things through blinders. Instead, they should rethink their legal orientations. Wouldn't it have been a travesty of justice and an infringement on the rights of the victims if the criminals were granted leniency? Does any country consider the rights of criminals to be of greater importance than those of its law-abiding citizens?
The iron and steel industry is a cornerstone of China's economy and is highly dependent on iron ore imports. In 2008, China imported iron ore worth $60.5 billion, equal to 43 percent of Australia's total exports in 2007 ($141.3 billion). Therefore, the iron and steel industry's data are regarded as a national secret. This makes the sentences handed down to Hu and his colleagues very light.
Western countries have tried to meddle with the judicial system of developing countries, including China, whenever they have passed a verdict against Western nationals or companies. They do so because of three reasons. First, Western powers still consider themselves as superior than the rest of the world, and hence think they occupy the moral high ground.
Second, Western political institutions allow interest groups to hijack the policies of non-Western countries in order to distort the investments of political, economic, diplomatic and even military resources.
And third, since Western countries still control the economic and the political fields as well as the global media, their interventions are usually quite effective. But the fact is the temporary "success" they achieve prevents them from seeing the greater price they have to pay in the future.
It is not surprising to see some politicians and the media criticize the verdict, because they have been pursuing the issue with ulterior motives. It is time Rio Tinto; other foreign enterprises in China; the overseas media that once disagreed with China's handling of the case; and the Australians, who allege the four convicts have been treated unfairly, sat back and reflected on the case. They should feel embarrassed for having lobbied for Hu only to realize that they were trying to protect a thief who had stolen from them, too.
The four defendants took worth more than 92.3 million yuan ($13.5 million) in bribes. Hence, it is not difficult to understand why Rio Tinto has reacted more moderately than the politicians and the media. No company would like to spoil its relations with a country that has contributed immensely to its revenue.
In fact, the crimes of Hu and his colleagues should not only embarrass, but also set alarm bells ringing for Rio Tinto and other foreign companies.
The employees of a company that has a strong influence on the market may take advantage of it to seek bribes from suppliers as well as buyers. Three big commercial bribery cases were exposed in China in August 2007. Eight Carrefour executives in Beijing were arrested for taking bribes from suppliers. Joseph Lau, then managing director of MacDonald Hong Kong Limited, was detained by the Hong Kong Independent Commission against Corruption (ICAC) for taking bribes. And the ICAC arrested 27 employees and suppliers of Little Sheep, a hotpot restaurant chain.
Compared with local enterprises and employees, the headquarters and senior executives of foreign companies are usually not familiar with the social and cultural ethos of China. This leaves loopholes for the local employees to manipulate situations to take bribes. This should be a lesson both for foreign companies in China and Chinese enterprises branching out overseas to strengthen their internal regulation.
The business environment for foreign investors in China has become a hot topic of discussion. Some accuse China of discriminating against foreign companies and allege that its investment environment is deteriorating. We don't deny that there are flaws in the business environment. But it is ridiculous to say that China, where foreign investors have enjoyed policies more favorable than their domestic counterparts for more than 20 years and where foreign capital is still pouring in, is discriminating against foreign companies.
Hu's case should make us change our perspective. Should we stop treating all foreign investors as a group with unified concerns? In reality, foreign enterprises are different from each other just like their executives and employees.
When a foreign company subjects the host country to unreasonable demands, it either is a problem of understanding or reflects the company's moral hazard. A few senior executives or employees are capable of sacrificing the long-term interests of their company and shareholders for personal short-term gains.
Do some companies complain that China is discriminating against them and its business environment is deteriorating because they cannot improve their products and are losing their competitiveness? Or, do they do so because they can no longer cope up with the better regulated business environment?
Foreign companies should think over the questions with a cool mind. Those who want to earn undue profits and enjoy excessively favorable treatment are out to hijack law-abiding foreign investors. And if the law-abiding investors allow the crooked minority to hijack them, it is their reputation that would be ruined.
The author is associate research scholar with the Chinese Academy of International and Trade Cooperation, affiliated to the Ministry of Commerce.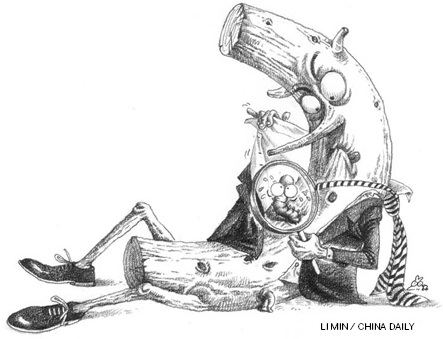 (China Daily 04/01/2010 page9)