When Barack Obama journeyed to the Great Wall Wednesday, I was wondering if someone on his team, or the United States president himself, would come up with a Chinese saying or two to express his feelings.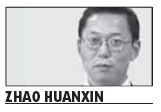 I've observed US presidents on their trips to China from a literary perspective, and in this sense I have found Obama is no different from the others.
Each has exhibited tremendous "scholastic prowess" by invoking Chinese poets, philosophers and proverbs, which seemed to have tickled the listeners in the country, who sometimes could not conceal their curiosity of just how pertinent those quotes were.
Like "Consider the past and you shall know the future".
It would be more accurate for him, though, to credit Confucius (551 BC - 479 BC) with that saying, rather than attributing it to "a Chinese proverb", but the ancient words won a ringing endorsement when used to review the "setbacks and challenges" of bilateral relations over the last 30 years.
"But the notion that we must be adversaries is not predestined - not when we consider the past," Obama told students in Shanghai during a town-hall meeting on Monday. "Indeed, because of our cooperation, both the United States and China are more prosperous and more secure."
Full Coverage:


 Obama Visits China
Related readings:


 Great Wall signifies 'sweep of history',says Obama


 China impressed with Obama but feeling proud


 Obama says he met with half brother while in China


 Obama says China visit 'wonderful'


 'Majestic' Forbidden City wows Obama
With two Chinese Americans in his cabinet - Secretary of Commerce Gary Locke and Secretary of Energy Steven Chu - I believe Obama is perhaps surrounded by more Sinophiles than any other US president in history.
He seemed to be adept in borrowing from the pool of Chinese brains to get his points across.
Three months ago at the first China-US Strategic and Economic Dialogue, Obama turned to the great Chinese philosopher Mencius when emphasizing the importance of strengthening communication in resolving disagreement between China and the US.
"A trail through the mountains, if used, becomes a path in a short time, but, if unused, becomes blocked by grass in an equally short time," the philosopher born about 2,380 years ago said through Obama's voice.
The Chinese thinker also helped former president Bill Clinton express some of his ideas when he visited Beijing in the summer of 1998.
Clinton cited the teachings of Mencius to describe US-China cooperation on international issues: "A good citizen in one community will befriend the other citizens of the community ... a good citizen of the world will befriend the other citizens of the world."
Many people believe the former president's speech matched the grandeur at the entrance of the ancient Chinese capital of Xi'an when he said: "Let us give new meaning to the words written in the ancient Book of Rites, what you call the Li Shi: When the great way is followed, all under heaven will be equal."
Time and again, I have found ancient Chinese references being eloquently employed by visiting US presidents to gain political ground. When Ronald Reagan visited Beijing in 1984, three years after he was sworn in, he said at a state banquet: "Many centuries ago, Wang Po, a famous Chinese poet-philosopher, wrote, 'Although we reside in far corners of the world, having a good friend is akin to having a good neighbor'."
The next day, he followed up with another line to highlight increasing mutual trust and cooperation between Beijing and Washington: "Let us be of the same mind. And as a saying from The Book of Changes goes, if two people are of the same mind, their sharpness can cut through metal."
It is intriguing to know that Richard Nixon, the first US president to visit China in 1972, followed the style of almost all Chinese people at that time, who would not make a speech without quoting "teachings" from Chairman Mao Zedong.
"Chairman has written: So many deeds cry out to be done, and always urgently; the world rolls on, time presses. Ten thousand years are too long; seize the day, seize the hour!" Nixon reportedly said at a reception hosted by then premier Zhou Enlai.
Nixon was known to have tactfully followed the quote with remarks "This is the hour. This is the day for our two people," winning explosive applause from the hall.
Back to yesterday's journey to the Great Wall, I think Obama may have been reminded of - or may have even quoted - another line from Chairman Mao: "Who are we if we cannot reach the Great Wall!"
zhaohuanxin@chinadaily.com.cn