Love of money is the root of all evil -- that is not just for Christians but also to ancient Chinese sages. Not compromising one's principles in the face of the temptation of wealth has long been considered a virtue in Chinese tradition. The irony is that it is so emphasized simply because it is too hard to follow.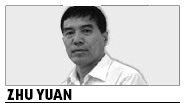 The convenience created by the rapid development of the financial industry has encouraged people to spend more and thirst more for money. At the same time, it has made it impossible for anyone who maintains a modern way of life to ignore the importance of money.
Apparently, the virtue of not falling prey to creature comforts that has been advocated by stoicism in Greek philosophy and Daoism in ancient China can hardly prevail when people's appetite is constantly stimulated by rising materialism.
According to Niall Ferguson, the evolution of credit and debt is as important as any technological innovation in the rise of civilization. His book The Ascent of Money - A Brief History of World provides a perspective to look at the rise of money in human history. Its Chinese translation has recently been published.
The connections he has established between the various historical events and money may be a mirror for us to look at the impact that the current financial crisis will have or should have on the future of this world. He explains in the book why the origins of French Revolution lie in a stock bubble caused by a convicted Scots murderer, and how financial failure turned Argentina from the world's sixth-richest country into an inflation-ridden basket case - and how a financial revolution is propelling the world's most populous country from poverty to power in a single generation.
Yet, the most important lesson of financial history is that there are no bubbles that will not burst and bearish sellers will ultimately outnumber bullish buyers, and sooner or later greed will flip into fear, according to the book.
This reminds me of the credit card pushers I often see in the lobby of our office building. They lure you with gifts to sign up for their bank's cards. A bank insider reveals that the more customers they attract, the more money they get as bonuses. Then comes the Chinese expression kanu (slave of credit cards): They have many credit cards from different banks, which makes it very easy for them to spend money but difficult to repay debt. Most banks require a customer to use a card at least six or seven times a year before they pay a certain fee for holding an unused card. Making sure that all the cards are used according to the requirement becomes an exercise in itself.
In a recent case, a person who failed to clear an overdraft of 20,000 yuan ($2,940) in two years was required to repay 190,000 yuan for the principal, interest and fines. It amounts to worse than usury and is tantamount to ruthless exploitation.
There is nothing wrong in charging for service provided but card holders do have to exercise self-control to avoid spending beyond their capacity. But it is difficult. Once a person becomes addicted to using credit cards, it will be very hard for him or her to change the way they spend. If that is what the banks wish, the motivation can hardly be said to be ethical or morally sound.
Look at what has happened to most Americans after the financial crisis. They are well known for spending beyond their means but the bubbles will burst sooner or later and they will have to repay their debts sooner or later. That should be the lesson.
For Chinese people living in a rising economy, this book may be imperative reading to avoid falling into the same trap that our counterparts in developed economies have been caught in more than once.
E-mail: zhuyuan@chinadaily.com.cn