They sometimes might appear less than organized. There even were pleas once for them to refrain from entering disaster zones on their own so that professional relief workers had their way.
But we cannot afford to imagine what things would have been like were it not for the compassionate involvement of the now-omnipresent volunteers.
When the majority of us want to help but are unable to make it to the forefront of post-quake relief, they are doing everything we have and have not anticipated.
We have seen the residents of Chengdu donating and collecting badly-needed clothes, quilts, food, and bottled drinking water, and organizing their own motorcades to transport them; We have seen taxi drivers there providing free service to meet emergency transport needs;
We have seen a special team comprising hundreds of demobilized People's Liberation Army soldiers who did not know each other but got together to honor their earlier pledge of loyalty to public good;
We have seen residents of Mianyang, where more than 11,200 have been confirmed dead and 63,200 injured, offering food and beddings to victims transferred from the epicenter;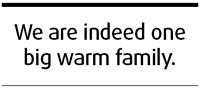 We have seen villagers who survived the deadly tremor cooking meals for the tireless rescue workers after they themselves got out of the ruins, and sending fresh vegetables to other victims;
We have seen people from Hong Kong and Taiwan traveling all the way to Sichuan, braving frequent aftershocks, to do their bits ...
No sooner had the fatal tremor hit the densely populated Wenchuan area on May 12 than the nation began to be touched by stories of heroic volunteerism.
From the admirable deeds of those providing voluntary services in the disaster regions, we have seen some of our nation's fine traditions and qualities, such as sympathy, philanthropy and selflessness, which we otherwise believe have been lost or are fading out in these times of material concerns.
With government-mobilized relief workers taking care of the most daunting tasks, volunteers are a precious supplement in addressing some other urgent needs. Besides delivering basic services, they convey a reassuring message that we are indeed one big warm family.
The victims are not alone. Nor are the volunteers working there. Our concerned citizens are not only expressing sympathy. They are acting to honor such concerns, through donations, of money, blood, or labor. There are so many of them, and we may never know exactly how many have been involved and who each of them is.
But deep in our hearts, there will always be profound respect for all of them as an admirable collective.
(China Daily 05/19/2008 page9)