Reconstruction work after the earthquake in southwest Sichuan province will entail faster investment growth later this year.
Such an investment boom appears not so desirable in a year when the government has been trying hard to curb inflation and prevent economic overheating. But when it has to happen, policymakers should make sure that investment expands in line with higher energy efficiency and environmental standards.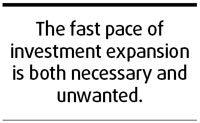 Latest statistics show that China's urban fixed-asset investment rose 25.7 percent year-on-year to 2.841 trillion yuan ($406 billion) in the first four months of this year. The growth figure represents a slight acceleration, of 0.2 percentage point, from the same period of last year.
For Chinese authorities, the fast pace of investment expansion is both necessary and unwanted.
On the one hand, when the country's export growth is increasingly affected by the global economic slowdown, it is necessary to expand investment and consumption to keep the national economy on its growth track. Otherwise, with soaring consumer inflation, drastic economic slowdown may not only lead to serious unemployment but also throw the economy into stagflation.
China's consumption has picked up somewhat in recent years, but is still far from enough to underpin the country's economic growth single-handedly. Hence, considerable growth of investment remains needed to ensure sound and stable development of the economy.
On the other hand, rapid investment growth will, more often than not, frustrate theefforts to pursue an energy-saving, environmental-friendly growth pattern.
Extensive investment growth in the past has proved to be a major hurdle that must be cleared to facilitate transformation of the country's growth model.
Current investment activities may be less hot than they look. Taking into consideration rising producer prices, the actual investment growth in the first four months can be several percentage points lower than that in the same period last year.
Just like the snowstorms that swept across parts of the nation early this year and required a lot of rebuilding work, the Sichuan earthquake demands immediate and massive reconstruction work. If that is a reality, policymakers should enforce stricter energy efficiency and environmental standards during the upcoming investment boom.
(China Daily 05/16/2008 page8)