A friend of mine asked me last week where tourists could find an easy but inexpensive tour to visit the Badaling section of the Great Wall and the Ming Tombs. He made it clear that he did not want his German friends to be shepherded to souvenir shops or elsewhere along the way, eating into their time to enjoy the grandeur of the Wall or the mystery of the tombs.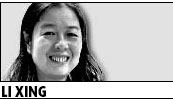 I couldn't give him an easy answer because of the many complaints surrounding tours to the Great Wall - I was afraid to give the wrong advice. After all, I didn't want the friends of my friend to be left with a bad impression of their visit to one of the most salient and grandiose Chinese heritage sites.
There used to be train going to Badaling. The first time I went there, I took it. After we disembarked at Qinglongqiao station, we had to do a lot of walking before finally arriving at the Wall.
There were, and still are, buses going there. In the late 1970s, I visited the Wall a few times by bus so my cousins and I could cover both the Wall and the Ming Tombs. We had to get up early in the morning and didn't return until late in the evening. We took lunches with us and spent most of the time on the way.
When China reformed and opened to the outside world, tourists began to pour in. Expressways are so convenient that tourists are able to go and return by taxi in a matter of just a few hours. At the heritage sites, restaurants abound to relieve tourists' worries of an empty stomach. Shops have mushroomed so visitors can pick up souvenirs that prove they are really "good men/women" who have been to the Great Wall.
Tourists who travel in groups do not have to worry about transportation to and from the sites. But backpackers like the friends of my friend do run into problems. People can also take part in arranged tours, available at hotels of different classes.
But I've heard more complaints than praise about arranged tours, both from entire tour groups and individual travelers. Too often we hear tourists say they have been taken to places other than the Badaling Wall, such as the Wildlife Park or playgrounds in the neighborhood.
An American friend who visited the Wall with a group in late April was taken to a pharmacy and forced to take a physical exam there. He was told that he had problems with his kidney and that the medications offered at the pharmacy just happened to be the best treatment available.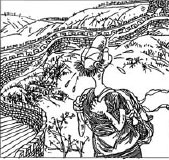 One recent warning says some buses only take tourists as far as the "wild" Walls near Juyongguan Pass. The Wall is there, but there is no or just a minimal entrance fee. However, this does not stop the guides from pocketing the lump sum charged for entering the Badaling section of the Wall.
My friend was persistent and finally able to locate the most straight-forward Great Wall bus service, which leaves from Qianmen bus station. It does not hassle tourists with multiple "offerings". He took his friends there in person and helped them wade through the peddlers who are there every day to lure away tourists with their own packaged tours.
It is heartening that such good services are still available, but it is also discouraging that straightforward services are not available elsewhere in town, even though Beijing continues to expand.
Tourism management officials should work harder to make it easy for every single traveler to choose the best and most convenient routes to the Great Wall and other scenic sites in Beijing without leaving them the impression that they are being cheated out of their time, money and hopes of having a good time at one of the world's wonders.
E-mail: lixing@chinadaily.com.cn
(China Daily 08/30/2007 page10)